Doors are an important part of your home. They welcome friends and family, and let everyone have access to your outdoor space. While they clearly provide function, doors offer coordinating style within your home. Sometimes, it can feel overwhelming when you try to cover them. By adding custom door coverings, with help from an expert, you'll maintain the function you need with beautiful results.
Up First: Verticals
Many times, vertical blinds and shades are the first thought when it comes to covering doors. They're simple and functional. Choose from the traditional look of wood or fabric slats that slide along a headrail, or the wide gliding panels from the Skyline collection. Many clients love the coordination of pairing these vertical shades with roller shades.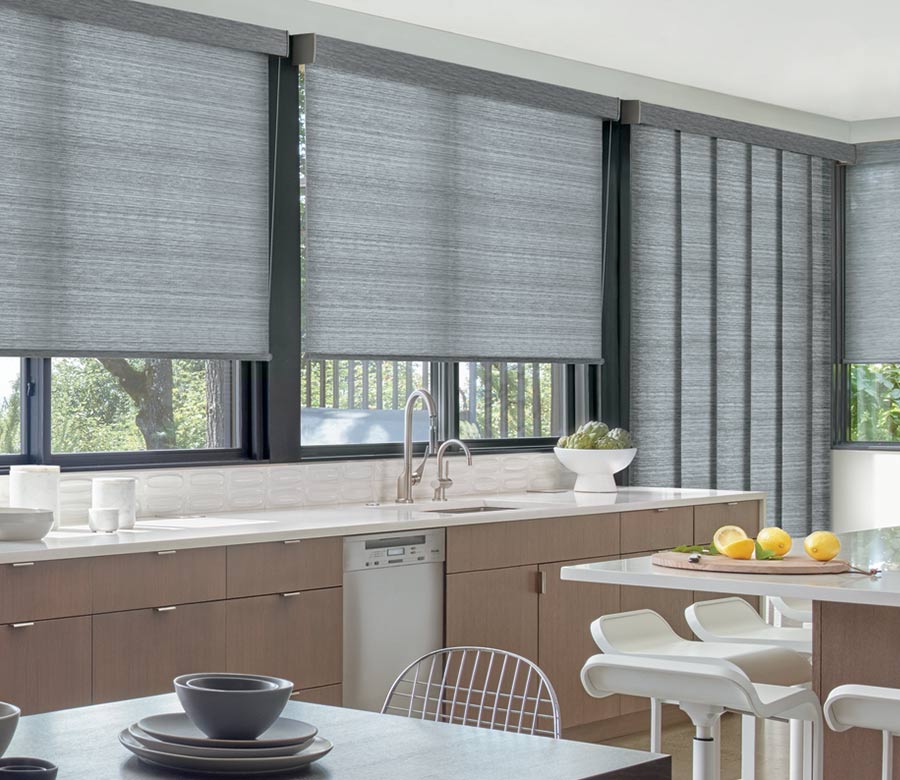 If it's the operation of shades you love, but feel you want the flowing look of drapery fabrics, we've got a winning combination for you. A stunning option in custom door coverings is Luminette Privacy Sheers. As a vertical shades, they glide open and closed easily. But, the unique characteristic of these shades is the rotating vanes inside the sheer fabrics. As the vanes rotate, you'll experience a range of light control and privacy, from filtered light to room darkening.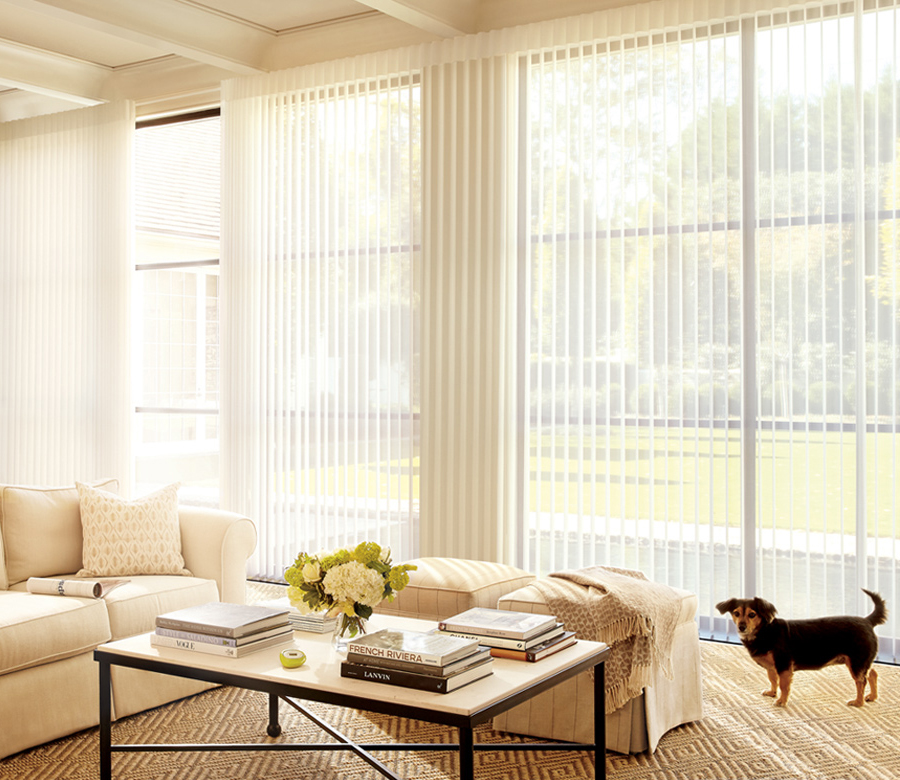 Timeless Beauty with Shutters 
Plantation shutters offer classic style and incredible function, especially as custom door coverings. With details like door handle cut-outs and split tilt operation, they give us even more reasons to love them.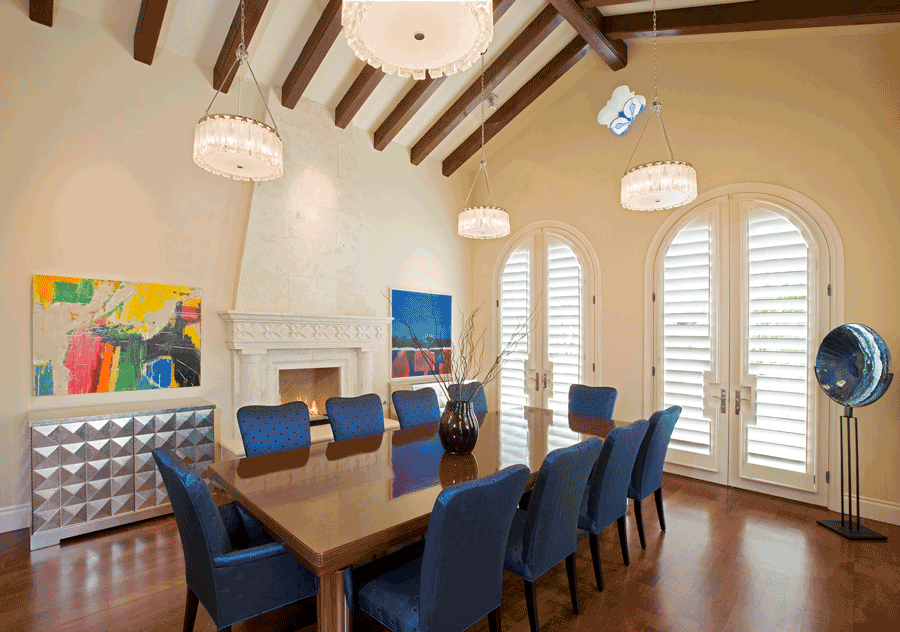 Layers of Fabric
Adding style and personality to any space, fabrics bring a unique look and feel. Why not consider them for custom door coverings? No matter the color, texture or pattern you choose, the fabrics frame doors beautifully. Choose simple side panels for framing, or full draperies with the option to cover doors when you want additional privacy and light control. For even more control, a layer of shades, blinds or shutters on doors will give you choices for creating atmosphere.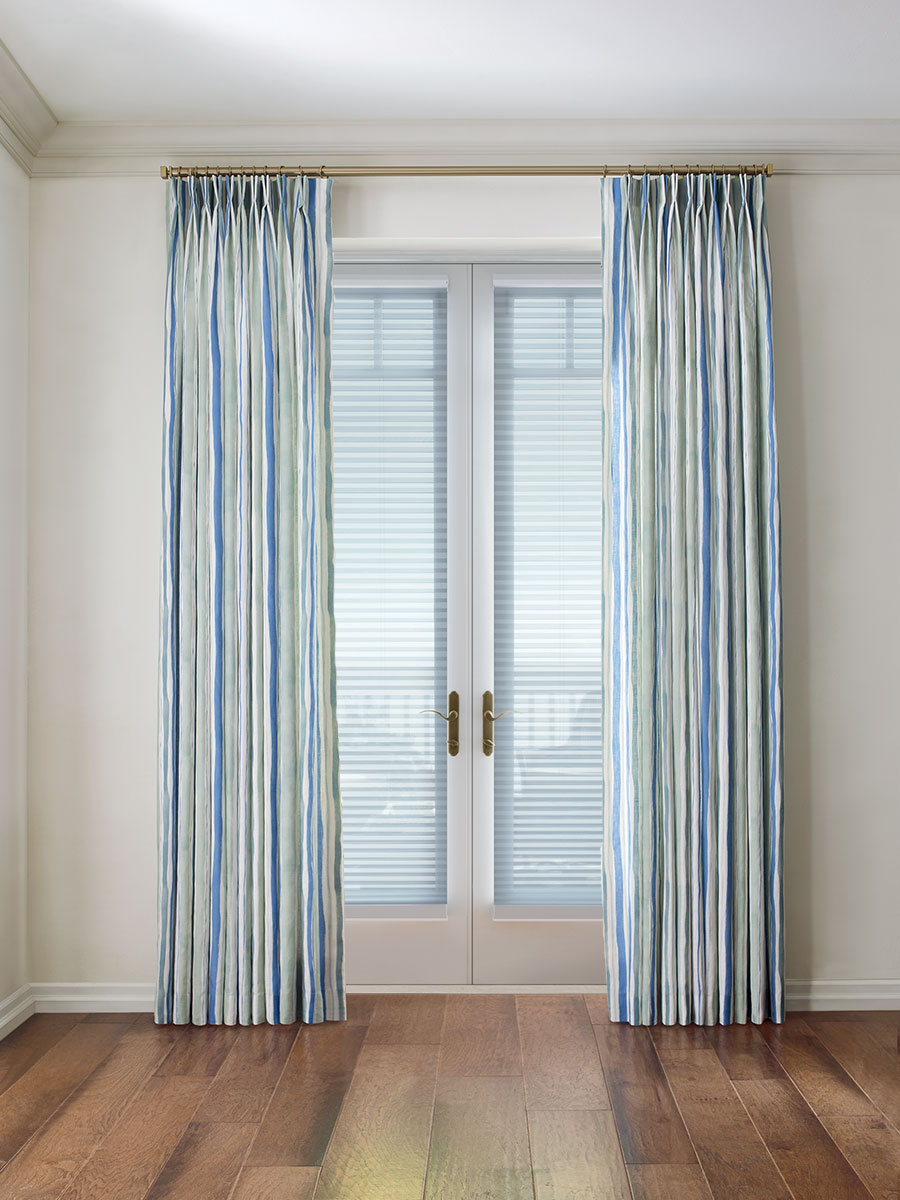 Custom Door Coverings for Glass Doors
And then, there are doors where you just don't know how to cover them. When doors are composed of mostly glass, like french doors, without a frame that can be drilled into, what options do you have? How about an operating system created just for doors like these? The latest innovation for custom door coverings is the TrackGlide™ system.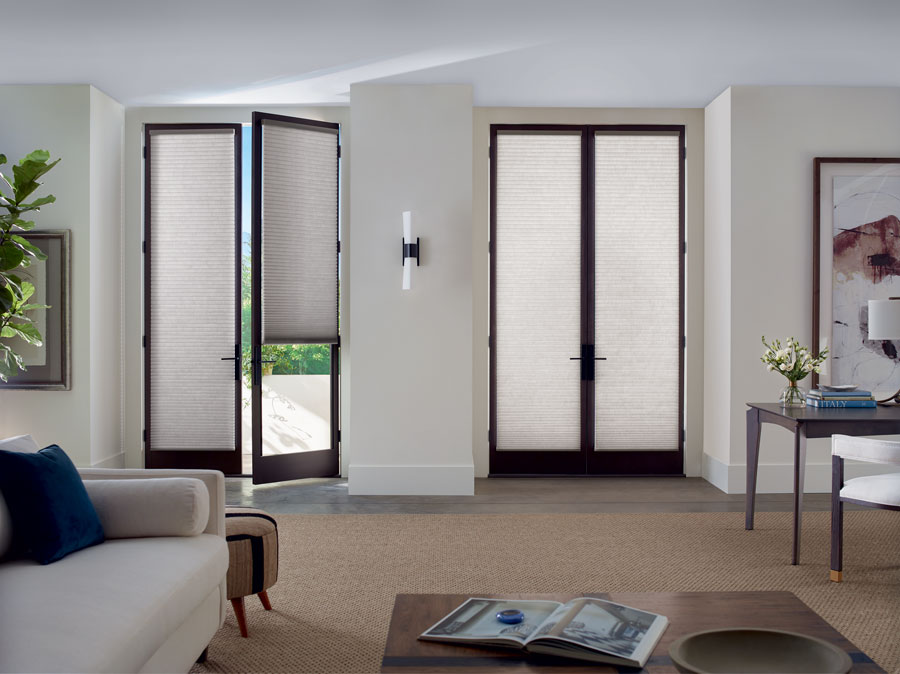 The track adheres along the edge of the frame, not on the glass. The cellular shades glide up and down along that track, moving with the door when it's opened and closed. It's the ideal way to add light control and privacy where it once felt impossible.
The Time Has Come! 
Covering doors can be a challenge. That's why our experts are here to help design custom door coverings that will add incredible style and much-needed function to your home. Visit our showroom for inspiration and ideas, and then we will come right to you to help guide you to the ideal window coverings for your Austin area home. Contact us to get started with your FREE consultation.