Do you have large windows? Wide windows? Floor to ceiling? If so, you're familiar with the natural light and landscape views that make them a beautiful part of your home. But, you've probably also found yourself wondering about covering large windows. We're breaking down for you the top "need to know" information that will help you decide which window treatments will be best in your home… 
Consider the Light.
Stunning. Invigorating. Mood-enhancing. These are words that can describe the natural light flowing into your home. But, so can the words: frustrating, annoying and overwhelming. Your experience can really depend on the direction your windows face. Plus, the room they're in plays a big role in how that light affects your life. Bedrooms need room darkening. Living rooms will do better with light filtering. When covering large windows, it's important to consider how much of the light you want entering each space.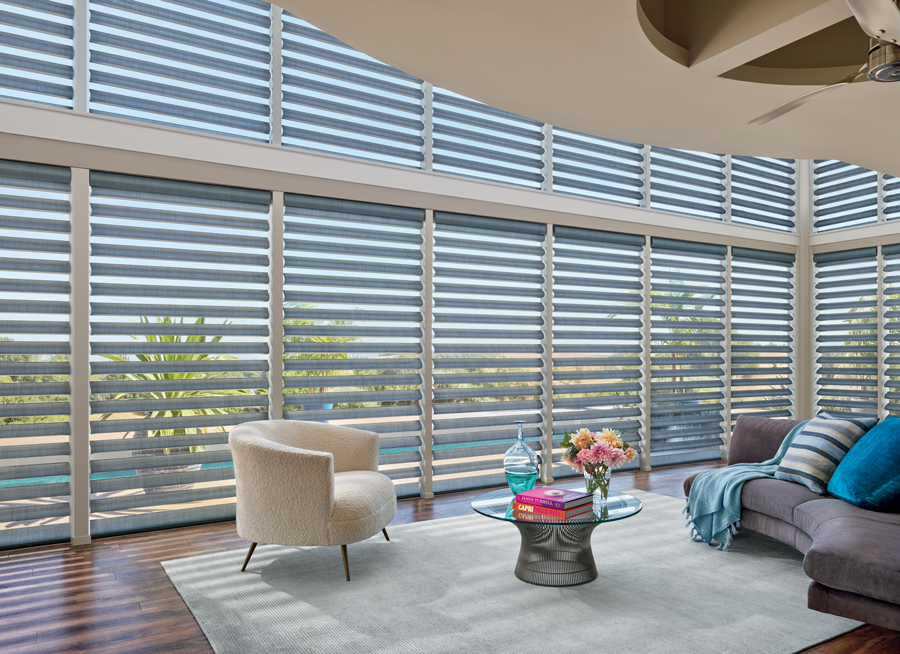 Do You Love the View?
Do you have a lovely view of the landscape outside your home? Or, are you staring at the street? Sometimes, the view is gorgeous, and sometimes, it's a "take it or leave it" vibe. This is one of the reasons covering large windows is a customized choice–even from room-to-room in your own home. Maybe the back of your home has a view you'd love to keep open, while the front can be covered without regret. You'll want to consider the atmosphere you're creating as you make your selections.
Gain Privacy.
We often think of privacy when considering window treatments for bedrooms and bathrooms. And, while those spaces DO need privacy, they're not alone. When it's dark outside, and lights are on inside, you deserve comfort. The view into your home should be one you're comfortable with. This is where covering large windows can be a concern, since your family room or living room might be the space you're spending time with family in the evening.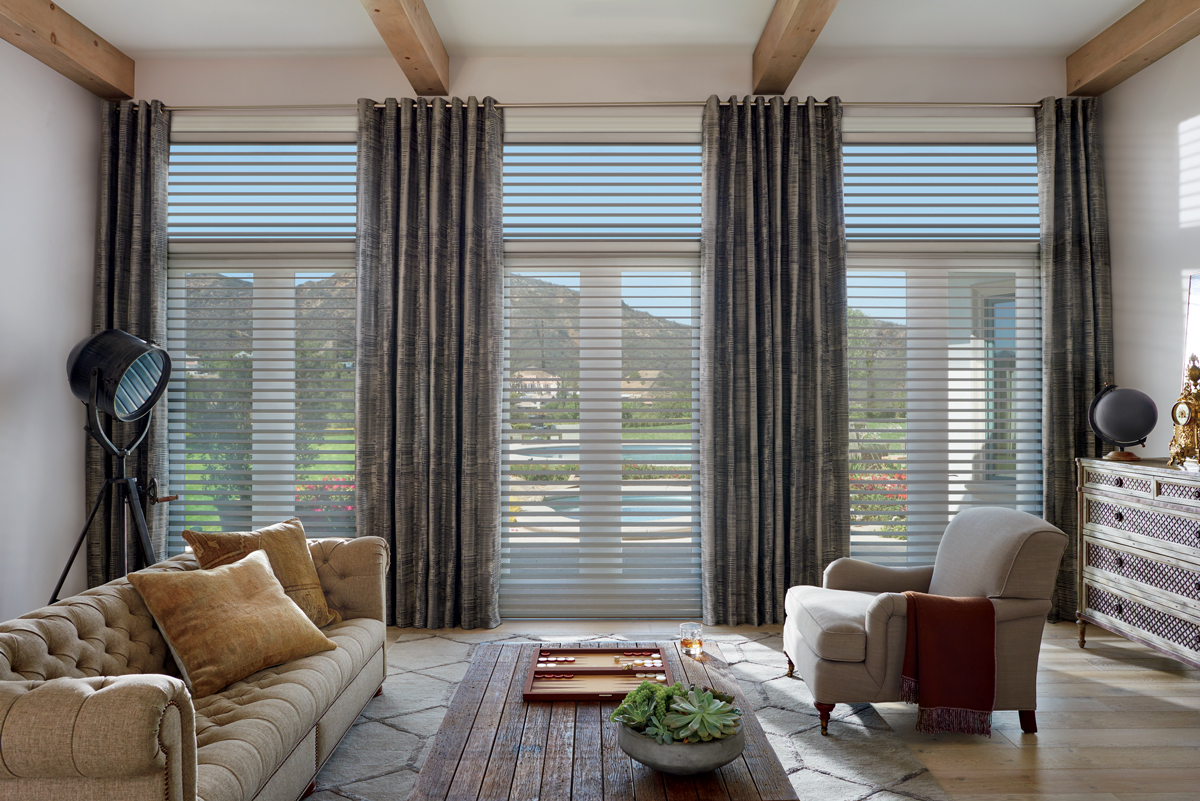 Customize the Adjustments.
How often will you adjust your window treatments? Are you interested in a "set & forget" kind of covering? Or would you like something that offers multiple options? Depending on your unique home and lifestyle, adjustments can be a big deal. And, for large windows, they can sometimes feel like a hassle. Smart shades make adjustments simple and convenient. No cord control, no reaching–just light and views or privacy and peacefulness. With today's features, you can integrate your shade adjustments with other smart devices for scheduled adjustments or voice commands. Let Alexa handle it.
Experience Energy Efficiency.
Oh, Texas. It sure gets hot. That mid-morning sun–all the way until sunset. The heat just doesn't quit. Those large windows can often be the culprit to exhausting interior temps and rising energy bills. Covering large windows can help. You'll save on utilities and protect the comfort of your home with window coverings designed to increase energy efficiency.
Thinking about Covering Large Windows?
If you're thinking about it, you've already got concerns. Let us help you with light control, energy conservation, improved comfort & privacy–all while preserving the natural light and beautiful view. We'll help you find solutions for stylish design and life-changing function. Contact the team at Austin Window Fashions for your FREE consultation.