Sleep is such an important part of your family's health and well-being. It's no surprise to find you looking for the best bedroom window treatments. But, did you know that room darkening isn't the only thing you should be considering? Let's take a look
Darkness Delivered
Yes, darkness in the bedrooms of your home is quite important. You'll fall asleep easier, stay sleeping longer and experience less middle of the night wake-ups. Why is that?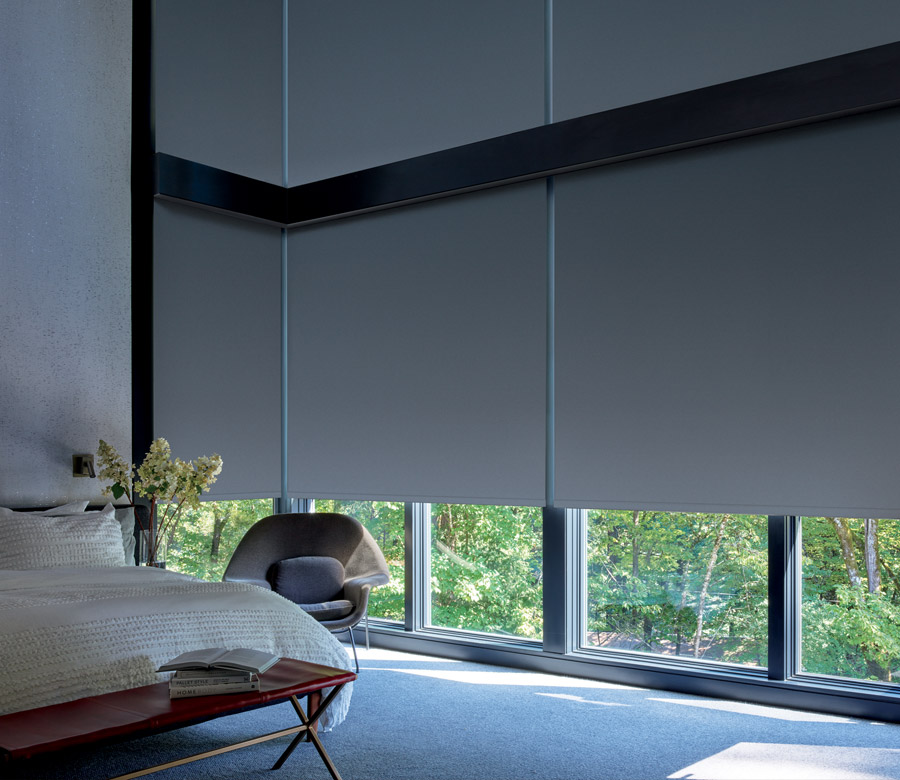 The best bedroom window treatments don't just keep out the light of the early morning sun. They block the late, summer sunsets. Passing car headlights, glowing street lamps or even the full moon won't have a chance at shining into your window, disturbing your slumber.
Blackout VS Room Darkening: What's the Difference? 
These terms are commonly used to describe the same thing: a darkened space for sleeping. But, there is a difference, and if you're making decisions, you should be informed. First and foremost, it applies to the fabrics. Room darkening fabrics are designed to keep most of the light out.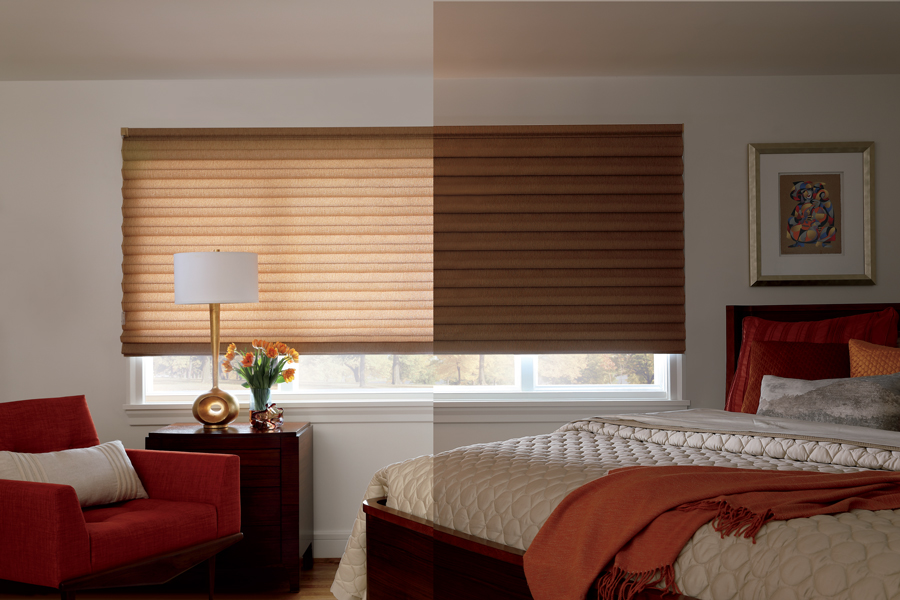 Blackout fabrics typically describe fabrics that are opaque–not letting any light through. But, that's not where the differences end. It's also about the experience. No matter how opaque the fabric is–if there is even a sliver of light along the edges of the window, that will bring a halo of light into the room. Is that okay?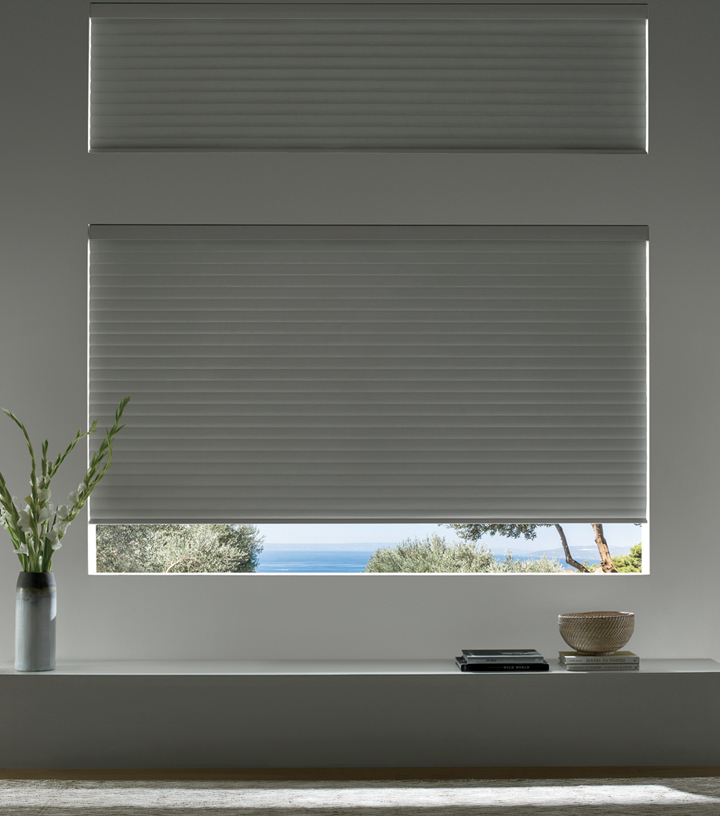 In many cases, it is. Your bedrooms will be dark–the distracting lights kept out. Some homeowners opt to add side draperies in this case, as a way to block the halo. But, when you want the ultimate blackout experience? You turn to LightLock.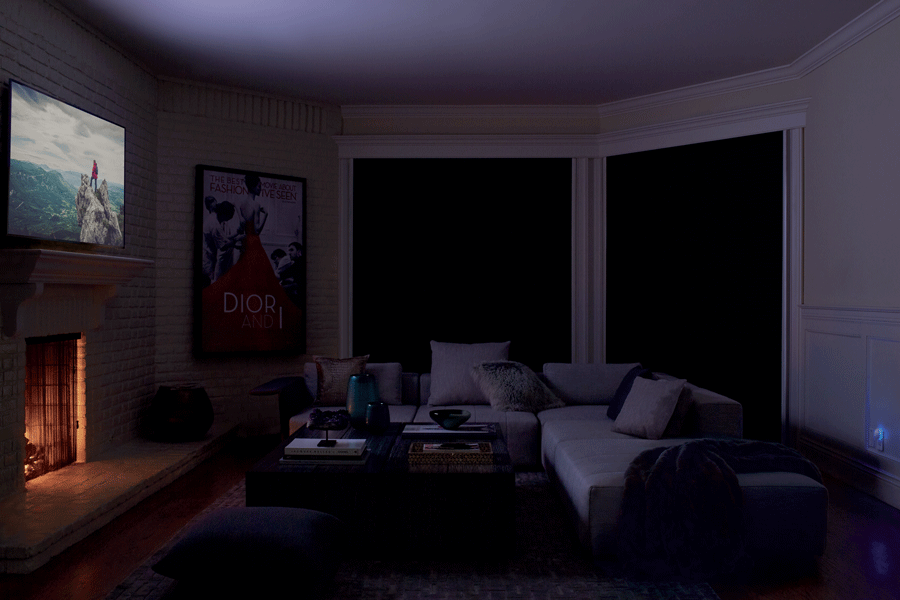 The LightLock system uses a U-shaped channel on the sides of the window frame, guiding the shades into position, sealing out the light. This system has become popular for bedrooms and media spaces.
The Adjustments Count
Now that we've discussed your options for darkness, it's time to consider what else you use your bedroom for. In this day and age, rooms have to offer a range of function. That means a range of light control is a must. During the day, bedrooms are being used for home office spaces, workout spots and quiet places to relax–away from the chaos of the household. Adjusting your window coverings has become an important aspect of your comfort and happiness.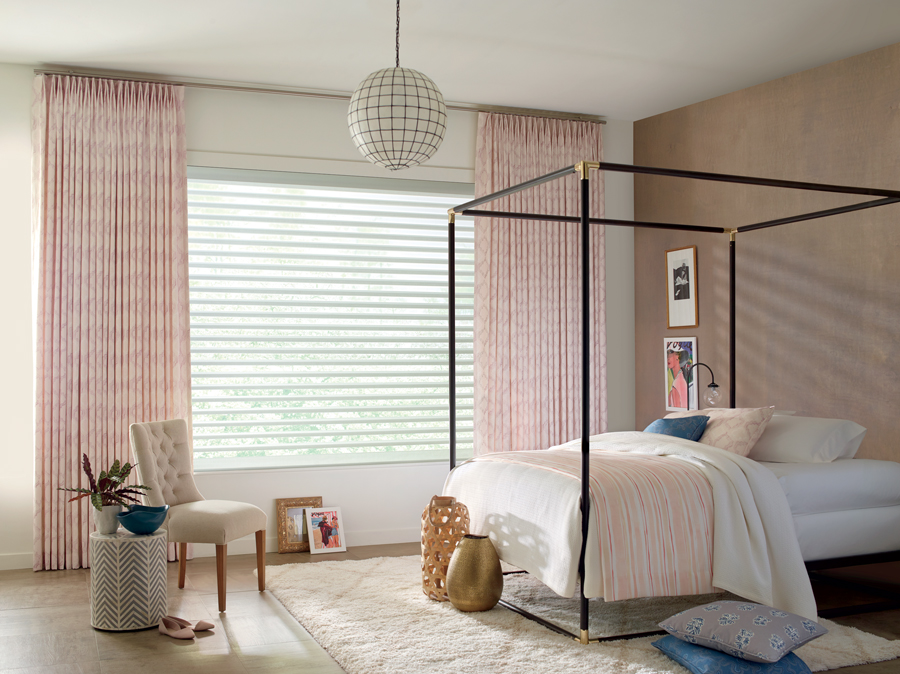 It's a good reason many clients are turning to smart shades–window coverings that can be integrated to the other smart features of your home. Adjustments can be scheduled, or you can simply make changes with a tap or voice command. Scenes you use often are saved and accessed in a moment's notice. 
From Dark to Light & Back Again
When choosing the best bedroom window treatments, you should know about two of our most popular features–offering you a customized atmosphere.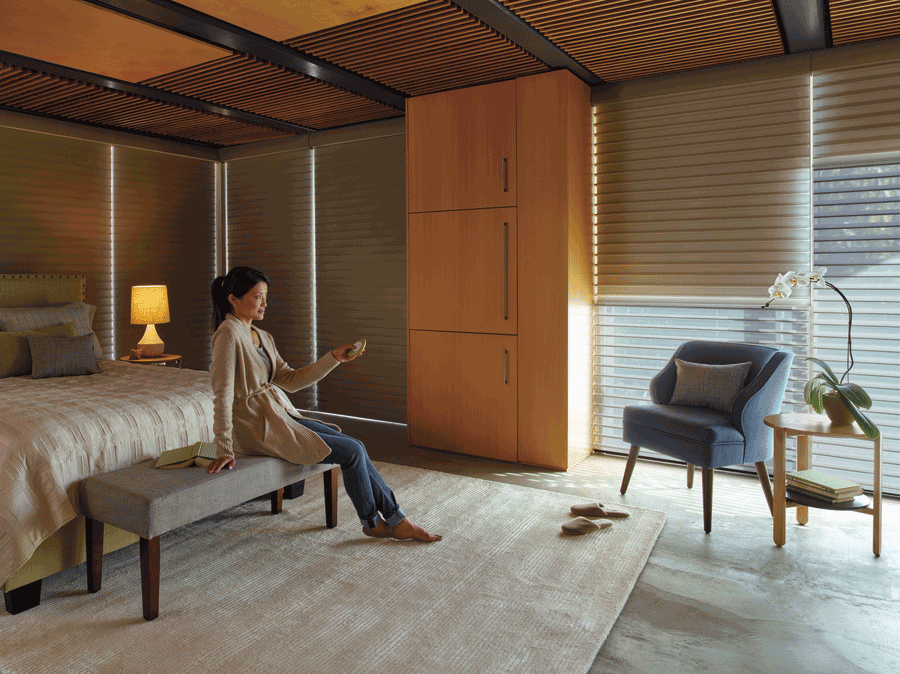 Dual shades have become a fast favorite in the world of window coverings. Two shades on one headrail deliver two completely different experiences. The front shade provides a soft, filtered light with view-through. The secondary shade brings room darkening.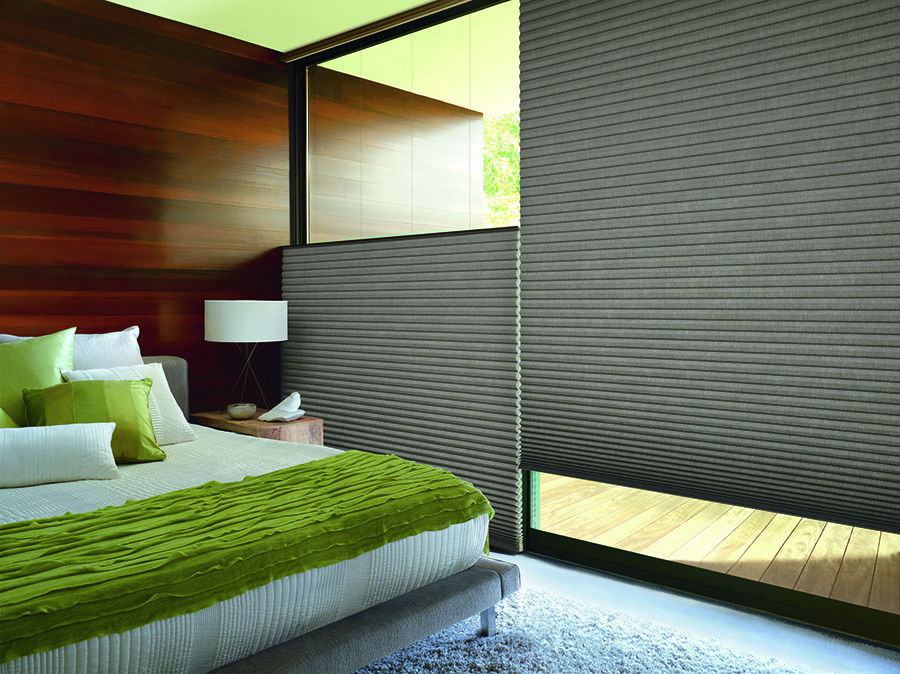 Top Down shades are a great solution for bedrooms–where you need both privacy and natural light. Cover the bottom portion of the window to add comfort, privacy and reduced glare. The top portion is lowered, as light streams in across the ceiling for natural lighting throughout the space. This feature is also available with shutters when you have "split tilt."
Energy Savings
We are so lucky in the Austin area to enjoy such gorgeous weather. However, there are times when the sunshine is a bit too much. The last place in your home that you want baking all afternoon is the bedroom. No one can sleep when it's hot and stuffy. Windows can act as a magnifying glass, allowing temps to skyrocket. But, when you have insulating window coverings, the heat doesn't enter, maintaining cooler environments.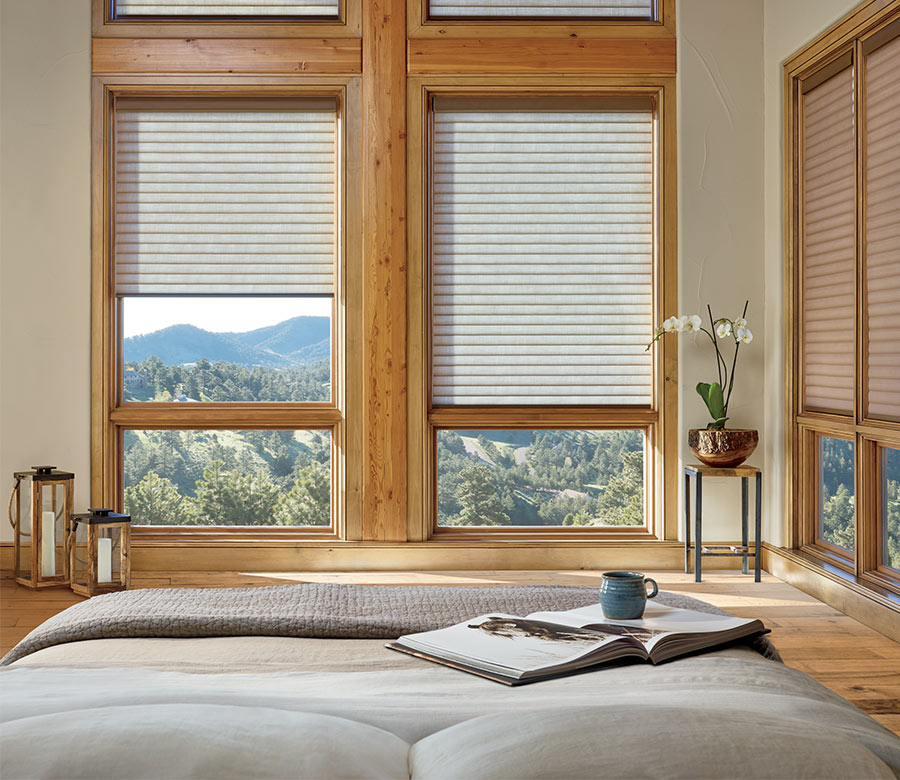 Safety for Little Ones
You've heard of childproofing. It probably makes you think about the safety features on medication lids and outlet covers. But, what about cords? Sure, when the baby is born, the cords dangling from window coverings won't be an issue. But, as children grow and start climbing, they are looking for things to play with. Your home should be a safe place–and even more so, your child's bedroom. Afterall, they spend time there alone. Get the peace of mind you deserve, with cordless or cord-safe blinds that protect your little ones from danger.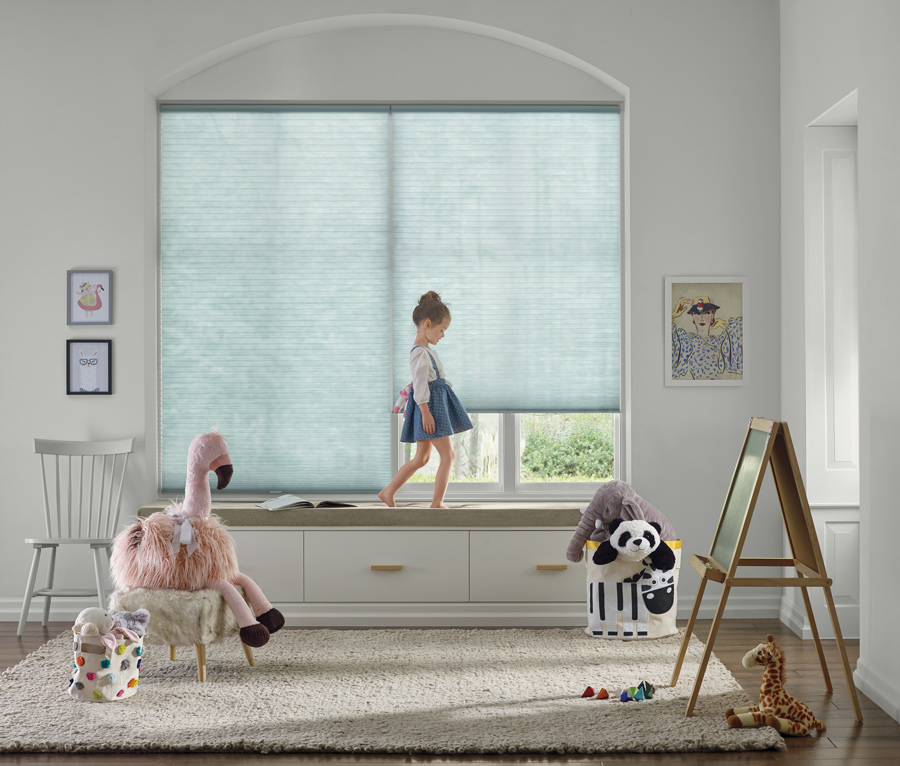 Have You Found the Best Bedroom Window Treatments for You?
Each and every home is different–as is the family that lives there. When you start looking for the best bedroom window treatments for your home, you will be making customized choices. Let's start with a conversation about what you would like, and we'll guide you to what will create the best environments for you and your family! Stop by our Austin showroom, or schedule a time for us to visit your home for a FREE consultation. Get in touch today.