Spring is here! Have you noticed just how much the sunshine affects you and your family? Most of the time, natural light is a joy that we all love in our homes. However, with too much sunshine, issues arise. Covering doors always comes up this time of year. Direct rays are feeling stronger, the heat is increasing–and so is the foot traffic! Do you need ideas to create privacy and light control without losing natural light and character?
Privacy is Important in the Home
While having your front door swung open on a gorgeous spring morning is wonderful, there are certainly times when you don't want every passerby to see right into your home. Does your entryway feature a window? Even those narrow sidelights–shown in the photo below–have solutions for privacy and light control.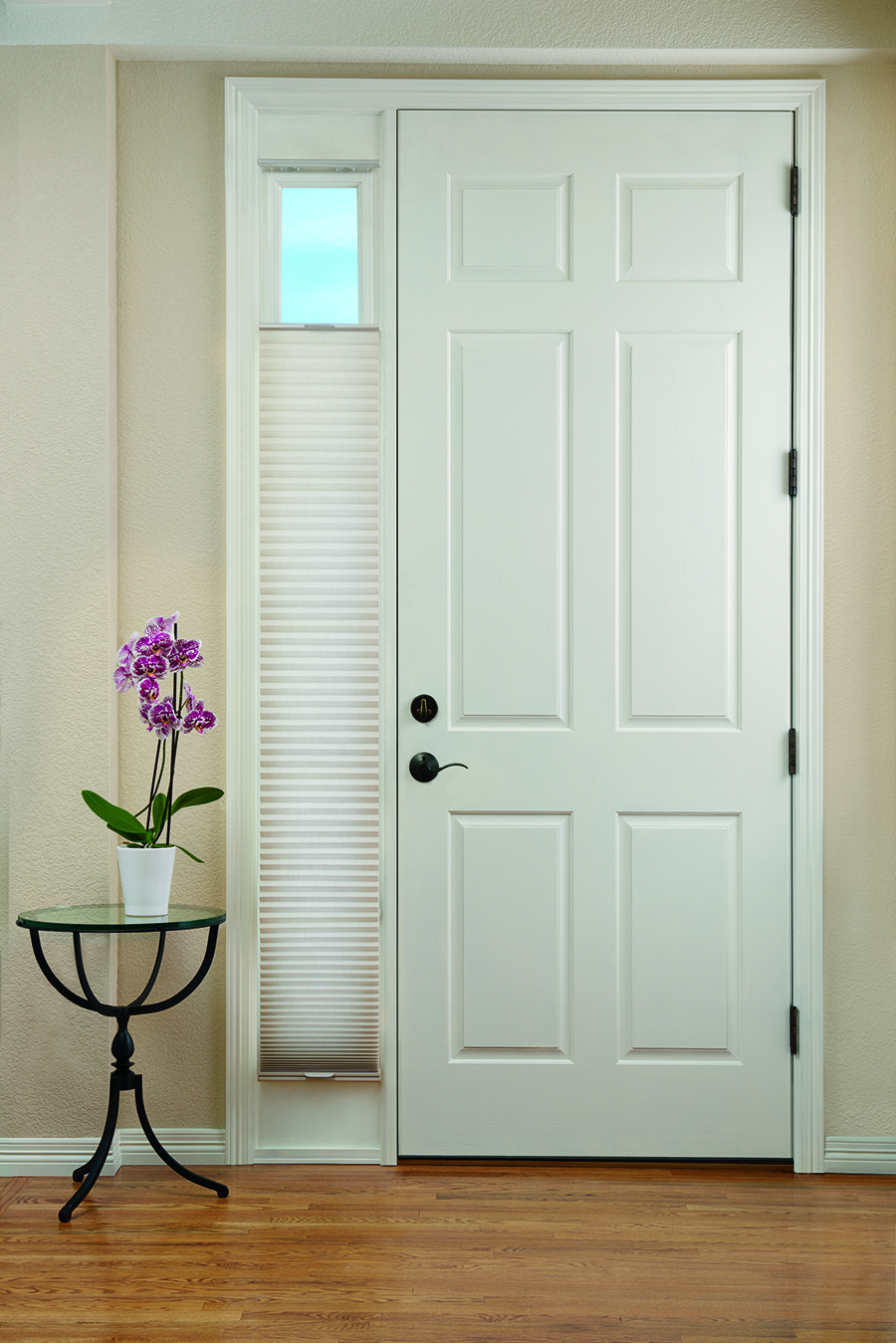 Honeycomb shades can offer the opacity that many people prefer for their front door, while still being easily adjustable. These are also offered as top down bottom up shades which means you can allow the light to flow in the top portion of the window while blocking the bottom. And, as entryways go, the energy efficiency of cellular shades can be a great benefit!
Fully Enjoy the Patio this Season
Patios are amazing because they create an indoor-outdoor living space feel. It's likely that this door will be opened and closed many times throughout the day, especially in these warmer weather months.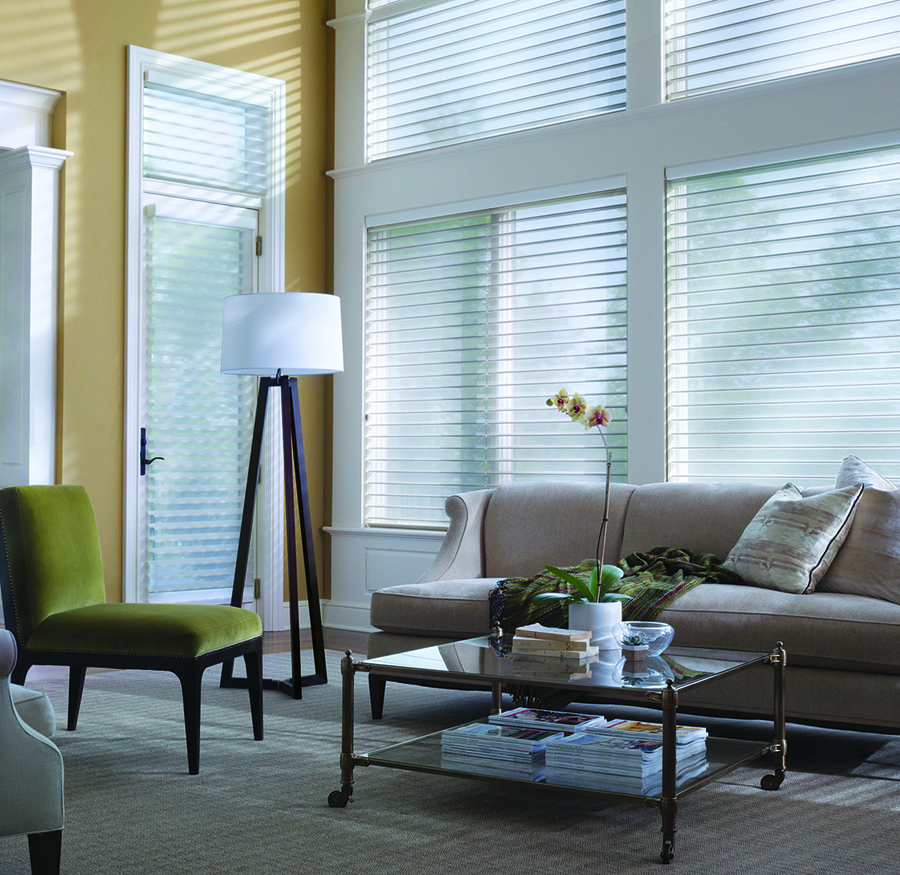 Two things are very important: it's a high traffic area and you might want to keep the space feeling open and airy. For both of these reasons, we can recommend sheer or roller shades. They offer lighting control and privacy when desired, but make it easy to enjoy the open space as well. They also coordinate beautifully with window shades in the same shared space.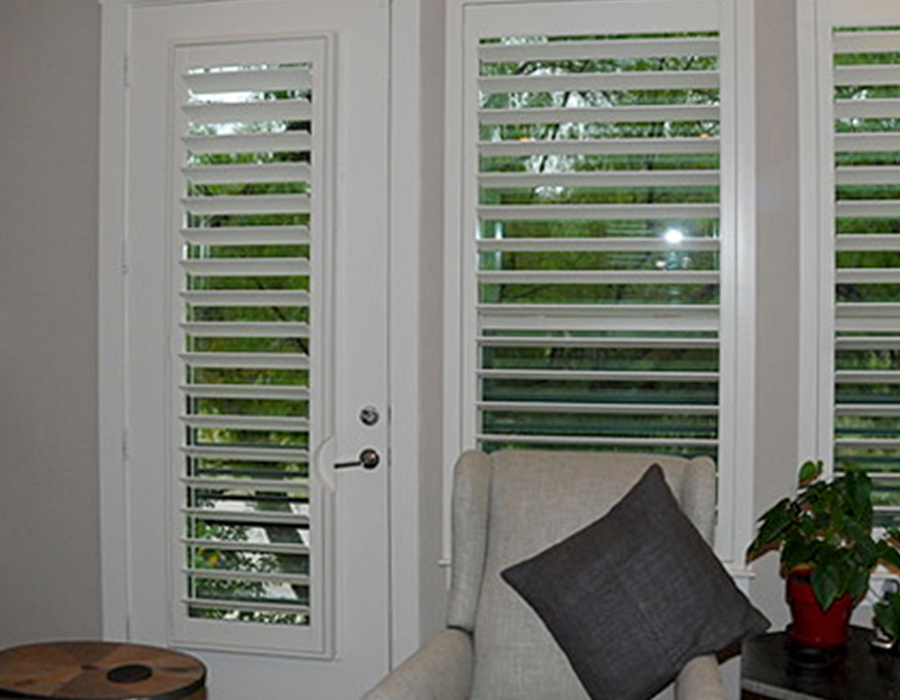 Another great choice for patios is our wood shutters. They look incredible with other design elements and tie the entire room together. They're also easy to clean if your pets tend to come in a bit muddy during springtime playing!
Sliding Door Window Treatment Recommendations
Sliding doors are often a crowd favorite because they offer the best view to the outdoors and make it easiest to open your home to the backyard as well. While there is so much to love about these "large windows," there are also a few things to keep in mind if you opt for no window treatments: harsh lighting/glare, little to no privacy, and UV rays that can damage your floors and furniture. 
Honeycomb shades, among other window treatments that slide from side-to-side, are easy to function. Because of the size of sliders, many clients often think of energy efficiency in this area. It can be an important factor in controlling the environment of your home.
Topping our recommendations for sliding doors are smart shades. They offer the utmost convenience while also adding style.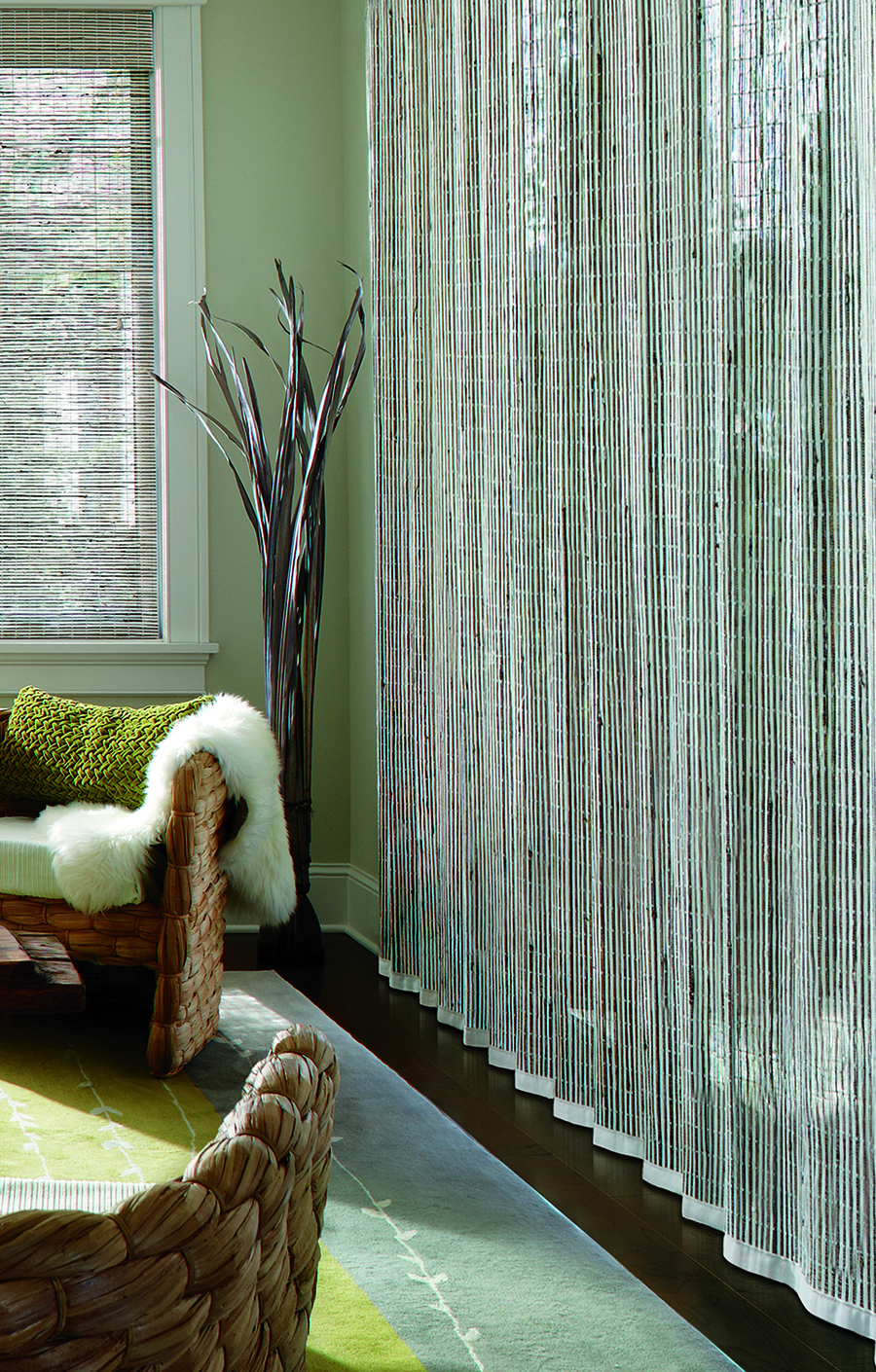 A simple voice command to a smart home device or a tap of a button, and you'll be on your way to opening the entire house up, or closing it down. They also are schedule compatible, so you can have them open and close with the rhythms of your day, or even the weather.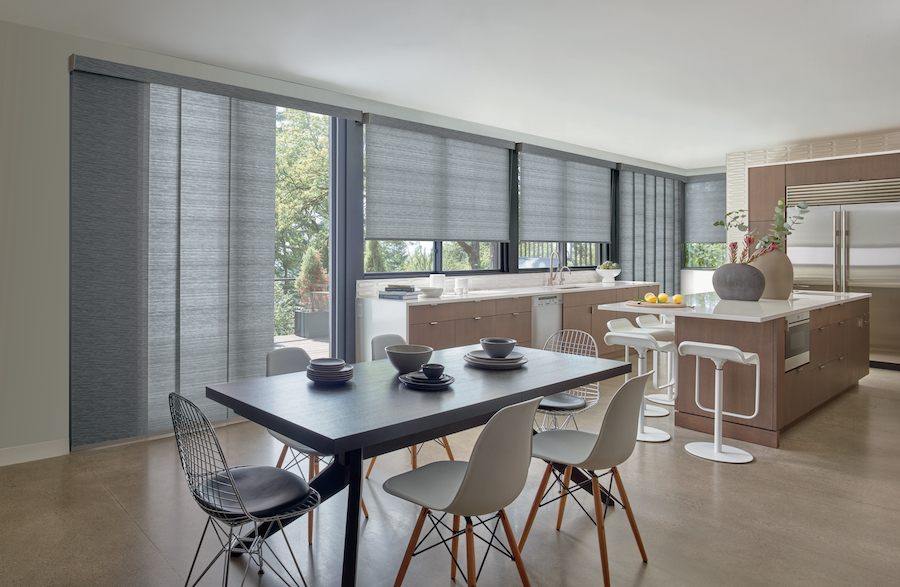 Covering Doors, Even French Doors
French doors are a stunning way to open up a home and add a great stylistic touch. There are several different window treatments that fit seamlessly with french doors. Which ones are your favorite?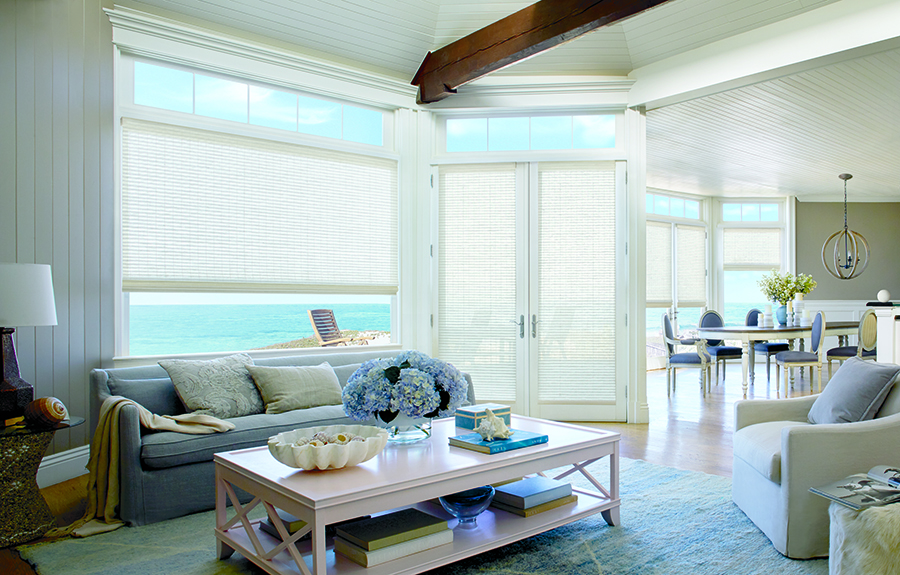 Keep in mind that french doors bring character into your home. The last thing you'd want is to cover them up. Selecting window shades, like these woven shades above, offer beauty and texture, while still revealing the personality of the doors.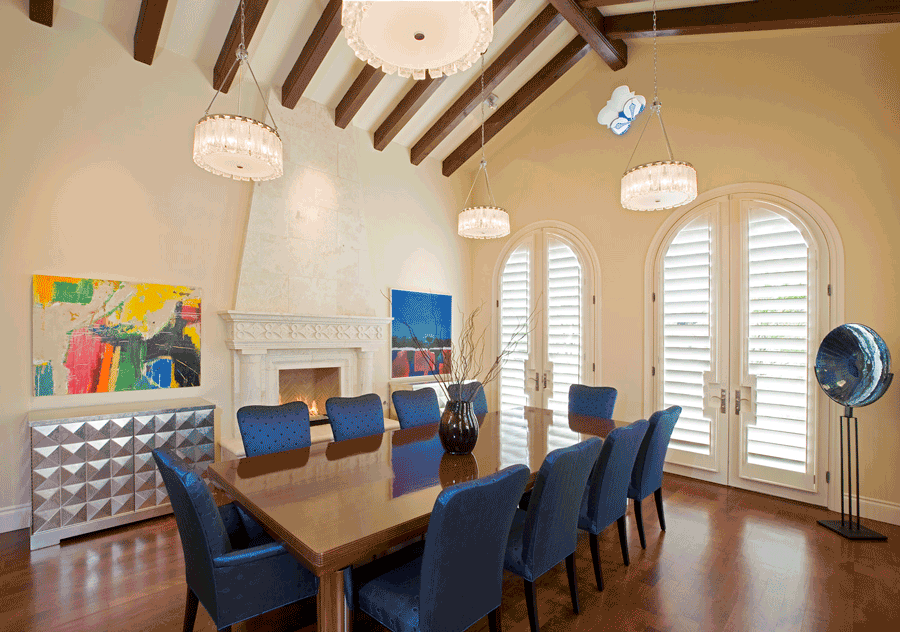 Interior plantation shutters are another choice that only add to the classic look! We offer these shutters in both wood stain and painted, so you'll be able to match your doors no matter what. Door handle cut-outs allow for convenient function, and shutters can customize even the trickiest shapes.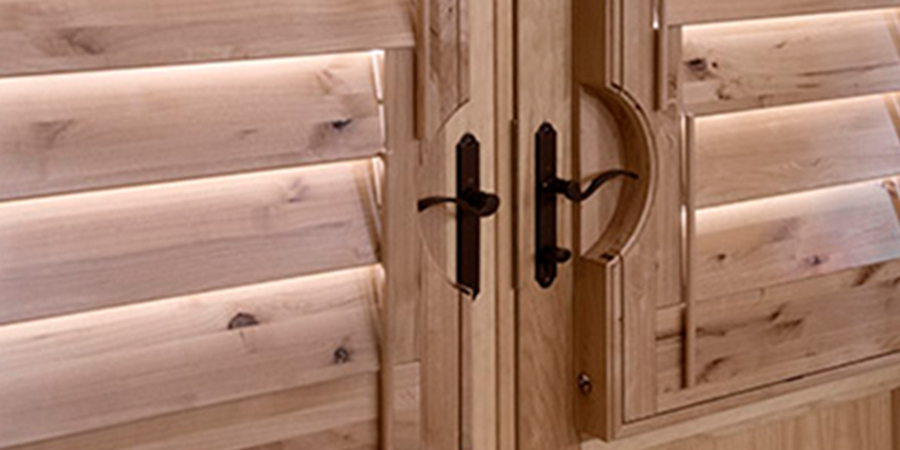 Another common way to add both style and function to french doors is with draperies. This is an easy way to match any style you are going for. Drapes are also a great option if you're looking for complete ease when it comes to adjusting the window treatments.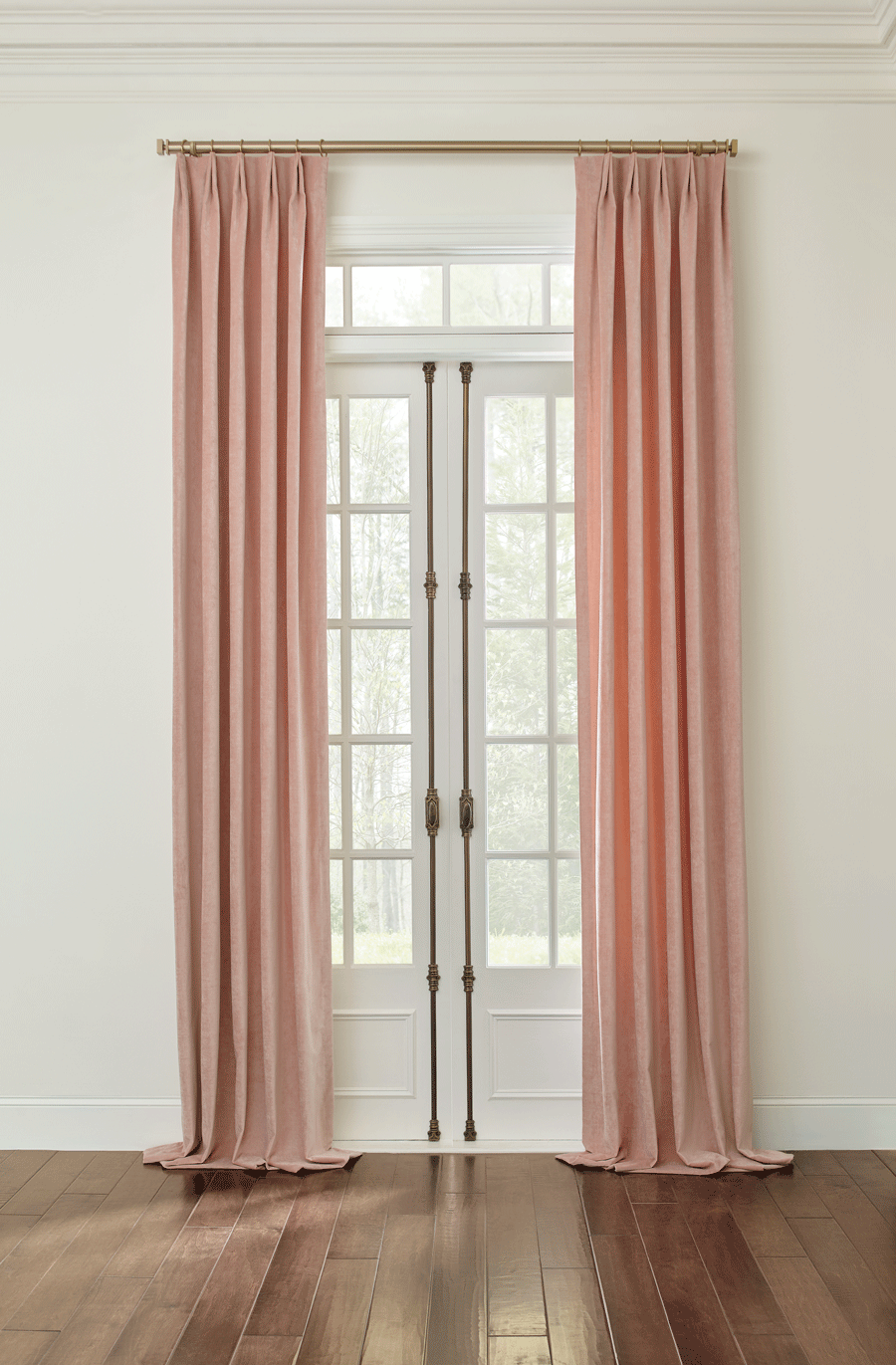 Covering Doors this Spring
For privacy, light control, energy efficiency, and style it's always a good idea to have treatments on your doors. No matter if you're looking for help with covering doors or have other window treatment needs, we definitely have the solutions! Contact us today for your FREE consultation.