Design Studio Window Treatments Made For You
October 31, 2019 | Austin Window Fashions
Design Studio Window Treatments are the ideal way to style your window coverings–and your home. With specialty fabrics, a custom design experience, and more, you'll instantly transform your home to suit your personality. Let's take a look at some of your options!
A Look You'll Love
Both you and your home are unique, and because of that, we strive to give you a customized experience. Design Studio Window Treatments offer you just that. A customizable experience is guaranteed with our selection of stunning fabrics–such as classically styled damasks and artistry developed techniques–transforming your home to suit your personality.

Customized Design Studio Window Treatments Made For You
Whether this is your first stop, or one of many on your window covering journey, you're guaranteed to find something you like in our collection. Let's take a look at some of your options.
Roman Shades
Roller Shades
Draperies
Drapery Side Panels

Styling Layers
Want to add a touch of personality and softness? With the use of fabrics, that can be easily achieved. Adding layers will also bring out the beauty of your home and show off all its gorgeous dimension. With the colors and textures you love, you can also bring in Hunter Douglas shades. Framed with draperies or side panels, the customizable options of blinds, shades and shutters will leave your home looking extraordinary.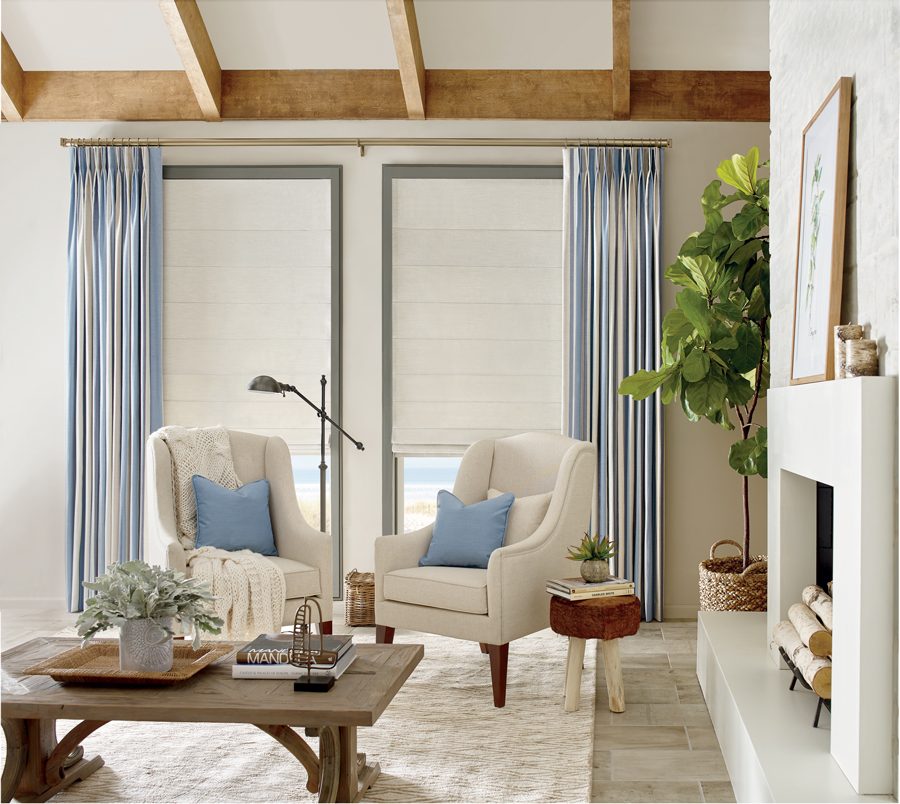 Accents Tailored To You
You've selected the fabrics and the layers–what's next? The answer is simple, accents. The hardware you choose will add a finishing touch. Not easily found other places, we offer the unique look of a decorative rod for motorized draperies. For extended style, use the Design Studio fabric by the yard, coordinating accents throughout your home.
We're here to help!
Our team at Austin Window Fashions wants to make sure that your Austin area home gets the Design Studio Window Treatments of your dreams. Contact us today for a FREE in-home design appointment and let us help you transform your home to suit you and your family!