The kitchen is always going to be known as the center of the home. It is the go-to room for almost everything in the house and it is where the family can come together and connect. Therefore, is important to make sure that this space shines. One way to do this is by picking out kitchen window coverings that are perfect for this area of the home. Not only do they bring your personal design style together but they are also energy efficient and establish the atmosphere of the room. 
Scenic View Sink
In most homes today, it is easy to find a sink underneath a window. This brings in natural light while also providing a great view if you are hand-washing dishes.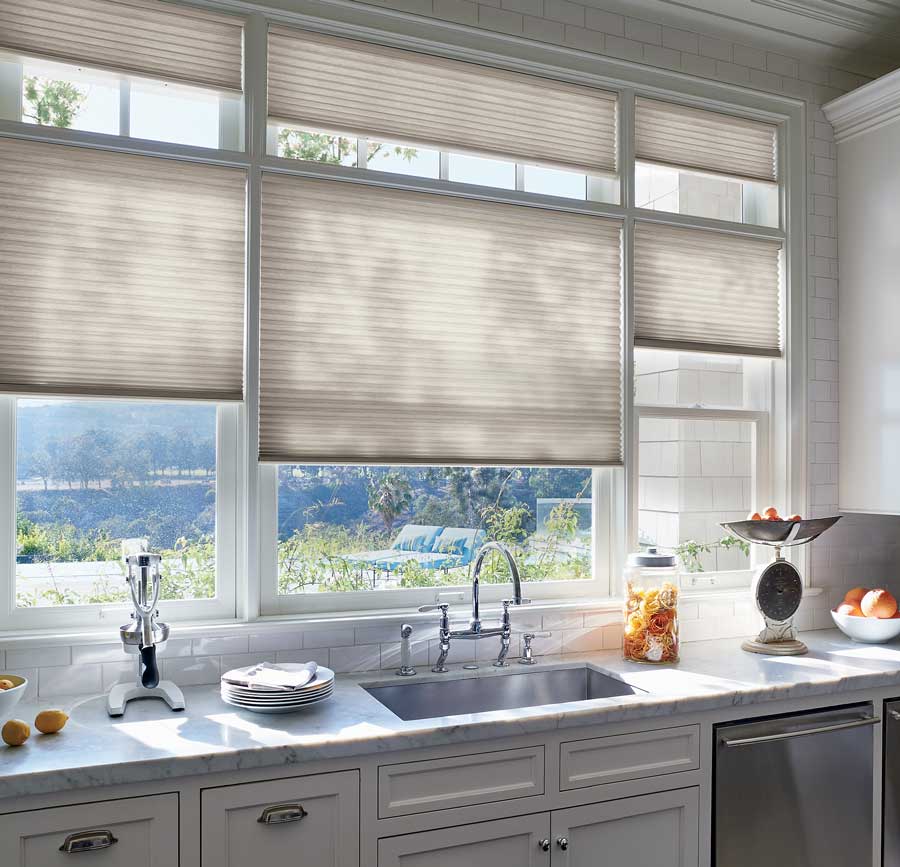 While the invention of the dishwasher somewhat eliminates the need for handwashing dishes, a sink in this location can help air out any dirty smells emanating from the space, allowing fresh air to come inside. Having window treatments covering the window above the sink is ideal if you are wanting privacy or to control the glare and heat of the sun. 
Match Your Windows and Doors 
Windows and doors often share the same space when it comes to the kitchen. You could have a sliding glass door, a patio door or even a set of french doors leading to the backyard. It can leave you wondering what type of kitchen window coverings would look best.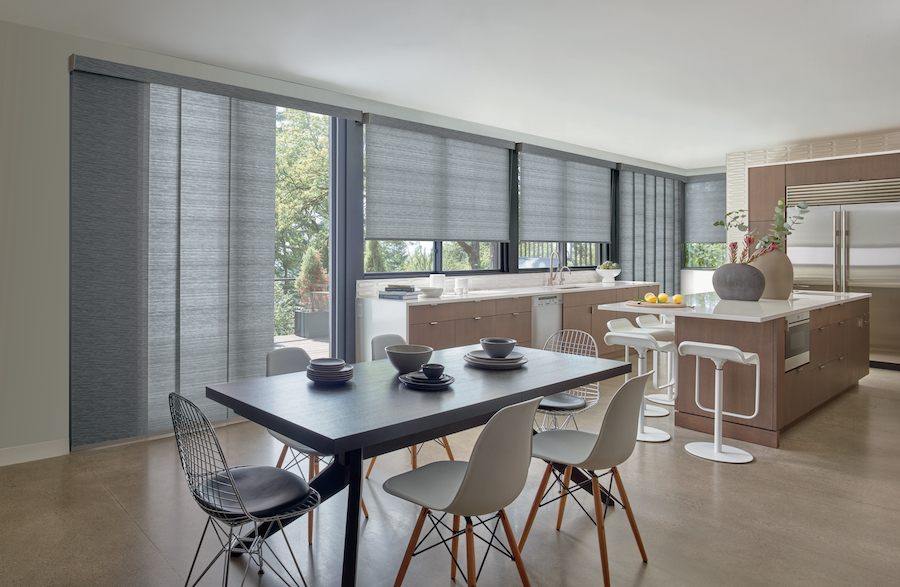 While it is recommended that you keep functionality in mind, you can always use the same window coverings for the doors and the windows. However, you can consider using similar or matching fabrics that can be used with vertical or horizontal shades. This adds some variety that is very pleasing to the eye while also being functional. 
Eat in Area 
In your kitchen space, do you have a dine-in eating area? If so, chances are that it is most likely surrounded by windows on two sides. Depending on the time of day, you could either love this or hate it. You may experience the sun in your eyes or feel the temperature rise during your meal. This can be distracting and unenjoyable. By picking out the right kitchen window coverings, you can ensure that this area of your kitchen is a pleasant place to sit all day long.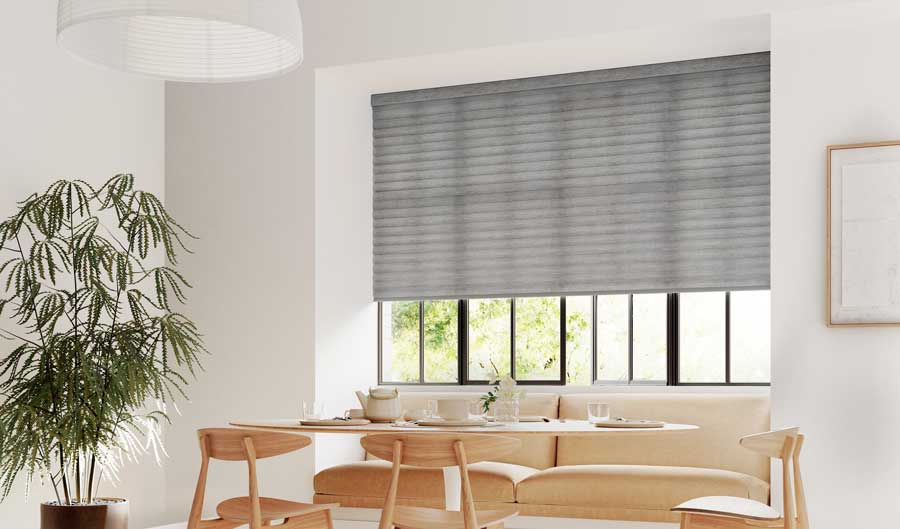 Stay Clean 
With all of the preparation that goes into making a meal at home, the aftermath can be messy. Some of this mess can even spread to your kitchen window coverings. With the help of one of our designers, we can help you pick out the perfect treatments that will withstand the mess that comes with the kitchen.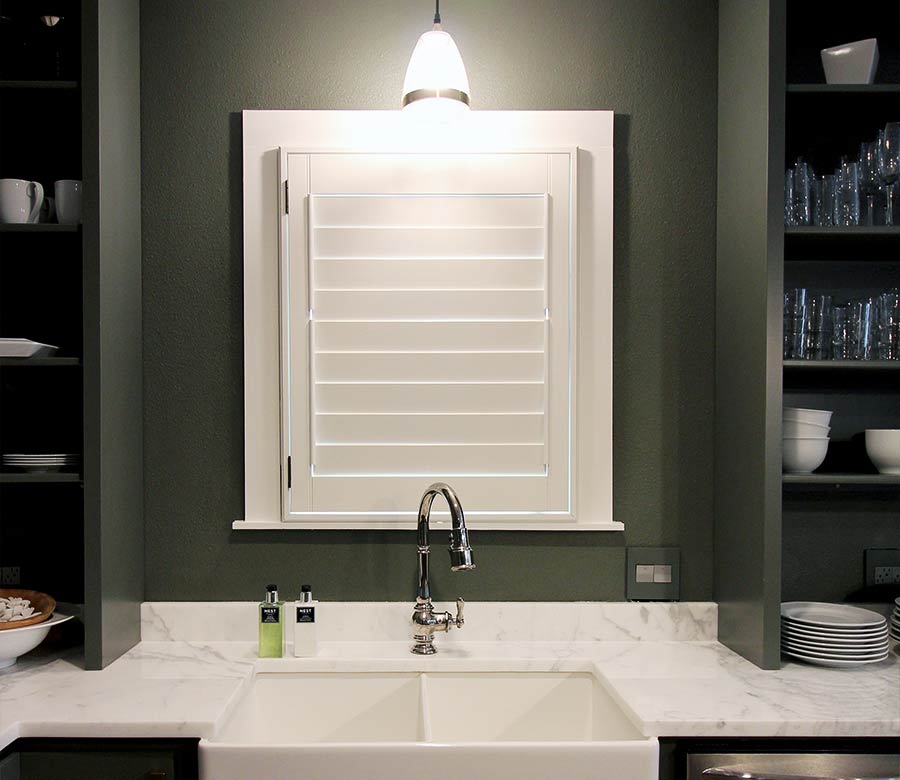 Let's Get Started
At Austin Window Fashions, we are ready to help you make your kitchen as functional as possible. Contact our team today to schedule a FREE virtual or in-person design consultation. We are excited to help you pinpoint the best kitchen window coverings for your space!