Large windows are unbelievably appealing. You walk into a space and are captivated by their size and how they elevate a room. When it's your own home, you may find that there are some challenges that come along with having tall or wide windows. If you're on the hunt for large window covering ideas, we've got you covered. As you try to figure out the best way to cover them you may find yourself asking, "Which window coverings can reduce the glare, but keep the light shining through?" You may even be considering additional features and functionality to match your style + make adjusting these coverings a breeze. At Austin Window Fashions, we are geared up and ready to help you find the perfect window coverings for your space. 
It is very important to keep in mind that the key to success often lies in the details. Each window has unique characteristics. Pairing that with the fabrics you select may impact the sizing. 
Managing the Sun and Heat
It's the middle of the day, and the sun is relentlessly beating against your large windows. You feel the temperature rising and wish that there were some window treatments to stop the sun from glaring through. As you start the journey of looking for inspiration for large window covering ideas, it's important to make sure that all of your concerns are addressed with the right solutions.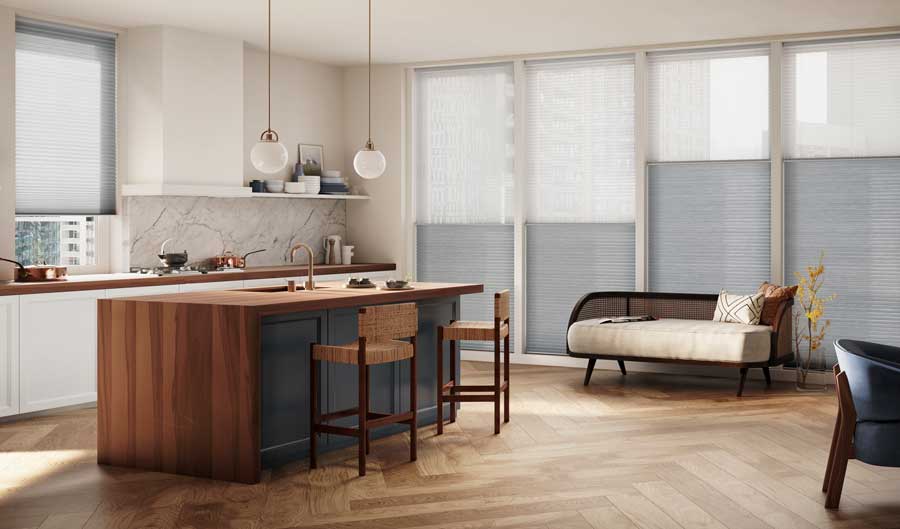 Let us present Honeycomb Shades! These window coverings are an excellent choice if you wish you control the light & heat coming through those large windows in your home. They reign supreme in regards to temperature regulation. Honeycomb shades effortlessly insulate your living space while simultaneously allowing soft light to enter your home. Cellular shades are a great option if you want versatility and a window covering that is capable of tackling a myriad of challenges. The added benefit of these is that they come in both horizontal and vertical orientations. This is not only great for windows of all shapes and sizes in your home but it also easily creates a cohesive look!  
For horizontal windows, these shades span dimensions of up to 14 feet in width and 12 feet in height. Meanwhile, for vertical windows, they can cover up to 28 feet in width and 10 feet in height.
Securing Privacy
When you originally bought your home, you most likely had a list of must-haves. One of these could have been large windows that would highlight the wonderful views of the landscape. While these views are an added bonus to any home, it does come at a cost. There is a loss of privacy. Once the sun goes down, it can feel like you're living in a fishbowl. Are those views worth the sacrifice? 
With the addition of sheer shades, you will not sacrifice anything. They are an ideal solution that allow you to enjoy the views around you, while protecting your privacy.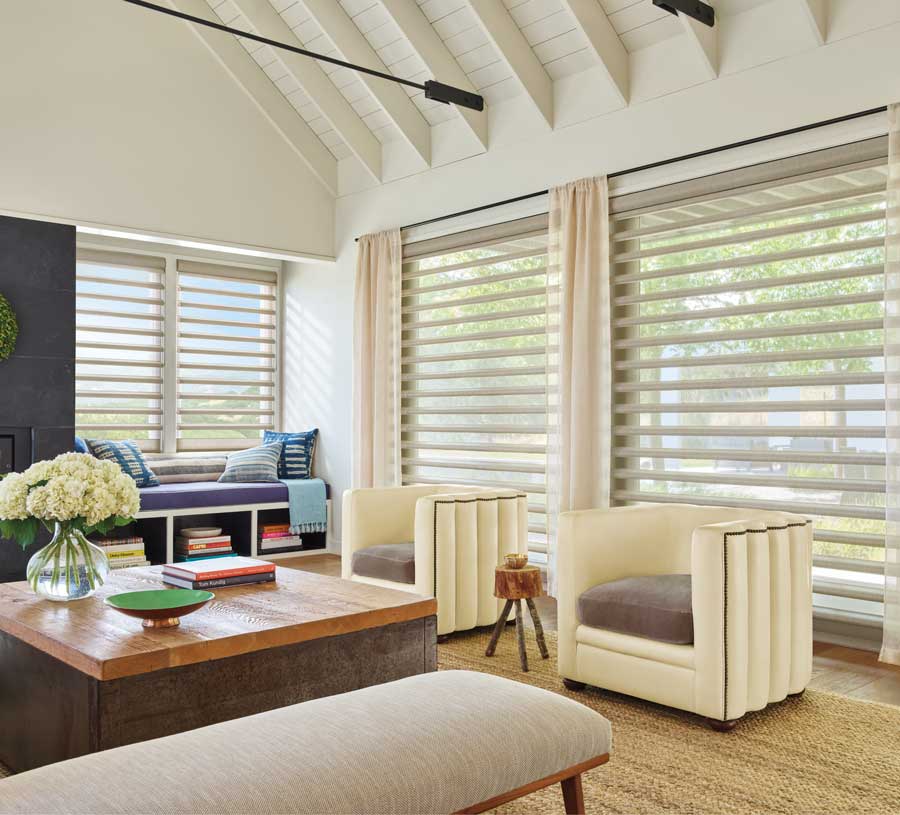 Among the many sheer shade options, Pirouette Shades stand out as a favorite for such scenarios. They have a dual shade functionality. It unveils your scenic views, provides privacy, and gracefully recedes into the background. With their sheer backing fabric, pirouette shades invite filtered sunlight into your home while providing daytime privacy. Did you know that once the vanes are closed, your room could be bathed in absolute darkness?
For horizontal windows, these shades can elegantly span up to 12 feet in width and 12 feet in height.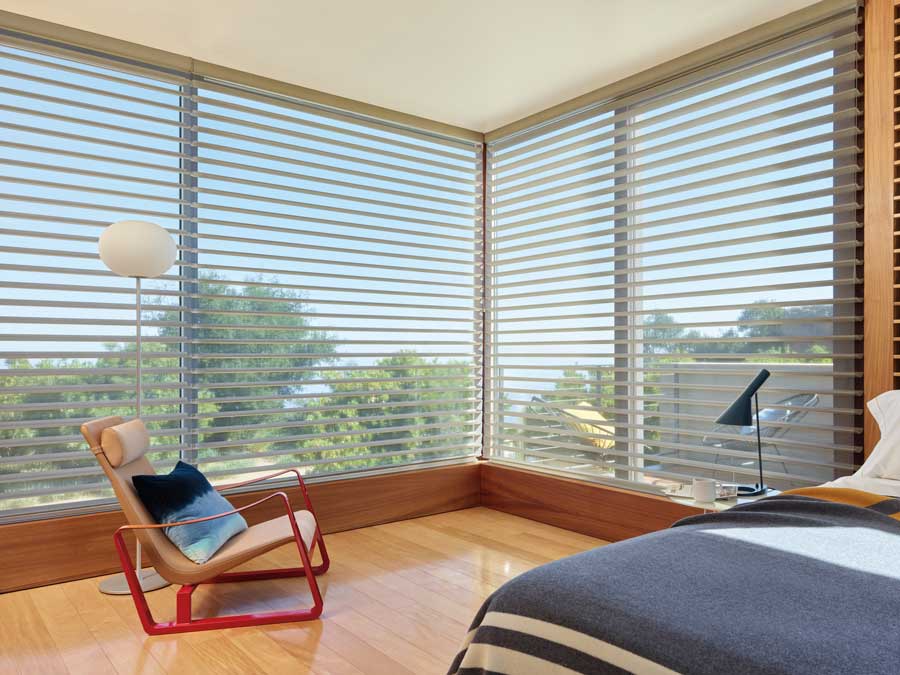 If you're seeking a counterpart to pirouette shades, take a look at Silhouette Shades. While they do not fold in place, their fabric vanes tilt–as if they are floating. They showcase unobstructed views while diffusing the light. Furthermore, a notable feature is that they can have the dual shades feature added. 
For horizontal windows, the maximum dimensions extend up to 12 feet in width and a towering 11+ feet in height.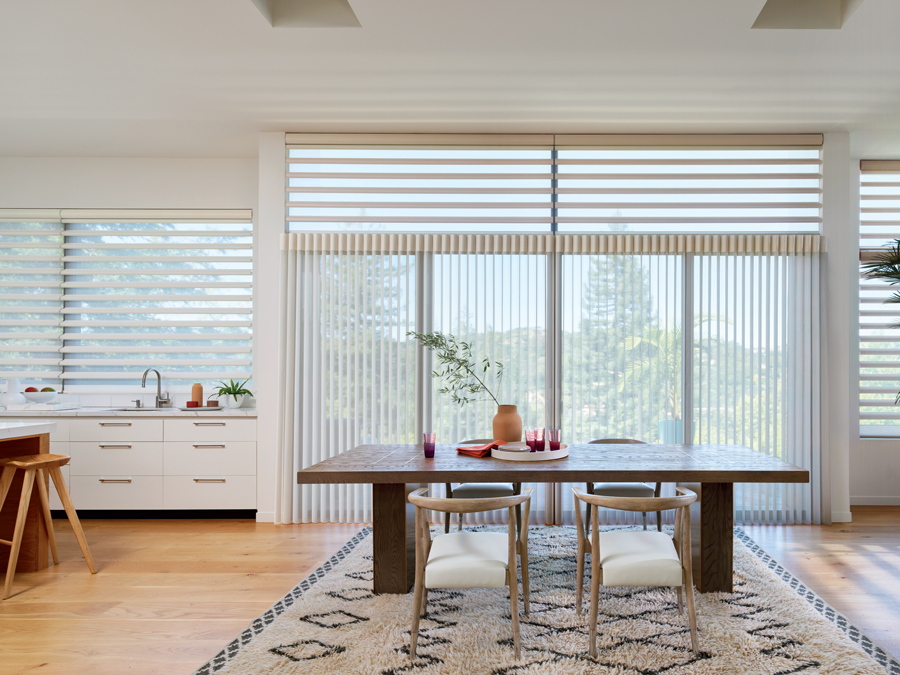 If it's sheer shades you like, you may be intrigued by Luminette Privacy Sheers. These distinctive shades are all about a vertical orientation. Secondly, these solid vanes pivot offering sheer views, or can be tightly closed to regulate light and privacy. Skillfully adjusting the vanes can achieve room darkening and total privacy. 
For both windows and doors, the vertical measurements reach up to 16 feet in width and 10 feet in height.
Elevating Your Atmosphere
The beauty of your home's largest windows plays a key role in shaping the overall atmosphere of your living space. Let's take a look at the popularity of roman shades. They come adorned with cascading fabrics that add a touch of visual appeal to any room in your home. Exploring Roman shade collections, you're bound to discover inspiration for those large window covering ideas.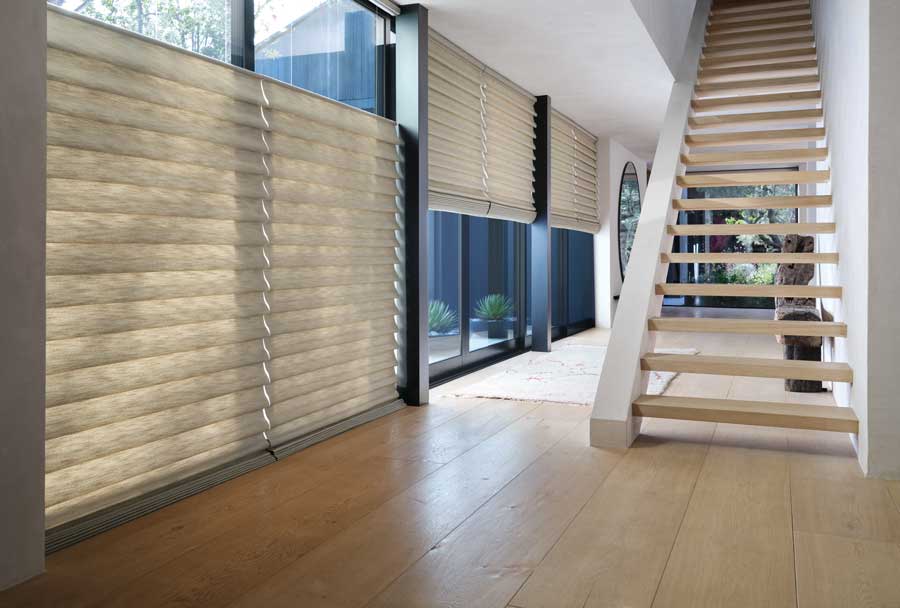 If you're in search of a solution that harmoniously combines light control, style, and privacy for your floor-to-ceiling windows, take a peek at Vignette Modern Roman Shades. We love these window coverings because they manage incoming light, protect your home from sunlight and you get the benefit of unobstructed views and privacy. 
For horizontal windows, these shades can span up to 11+ feet in width and 12 feet in height.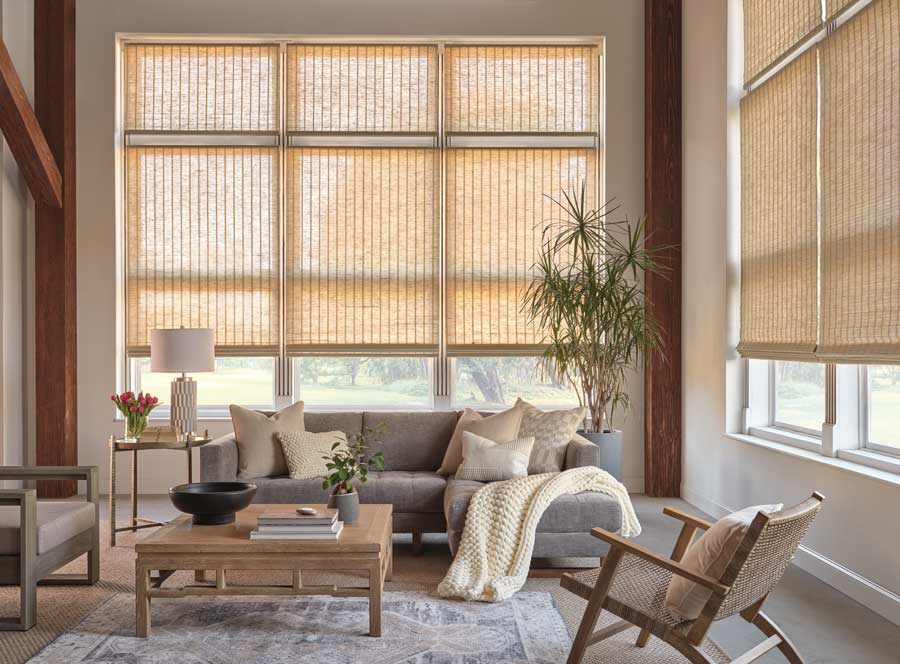 Alternatively, Provenance Woven Woods are an excellent choice for you if you want to infuse texture into windows of any dimension within your home. Made from woven materials, they have the remarkable ability to filter light while preserving your privacy. The color palettes for these are so versatile that they effortlessly complement your existing decor. Moreover, the inclusion of a top-down or dual shade feature grants you the power to tailor your home's atmosphere to perfection.
Horizontal woven shades can provide coverage for windows up to 12 feet wide, 16 feet tall. Vertical shades are capable of covering windows and doors, up to 9 feet wide, 9+ feet tall.
Keeping it Low Profile
As you start to seek out various large window covering ideas, you'll quickly see that the beauty of window coverings lies in the fact that there's no definitive right or wrong choice. It's all about selecting what resonates best with your space and style. If you want to keep your coverings a little more low profile, we have some great options.
Wood Shutters are a beautiful way to enhance your large windows with light control, privacy and energy efficiency–all while maintaining a low profile design. Because these are truly customized to the exact shape and measurements of your window frame, sizing and specifications are one-of-a-kind. Many homeowners appreciate the wide width and height that our custom shutters can provide, as many other shutter companies cannot guarantee the quality of their shutters when reaching maximum sizes.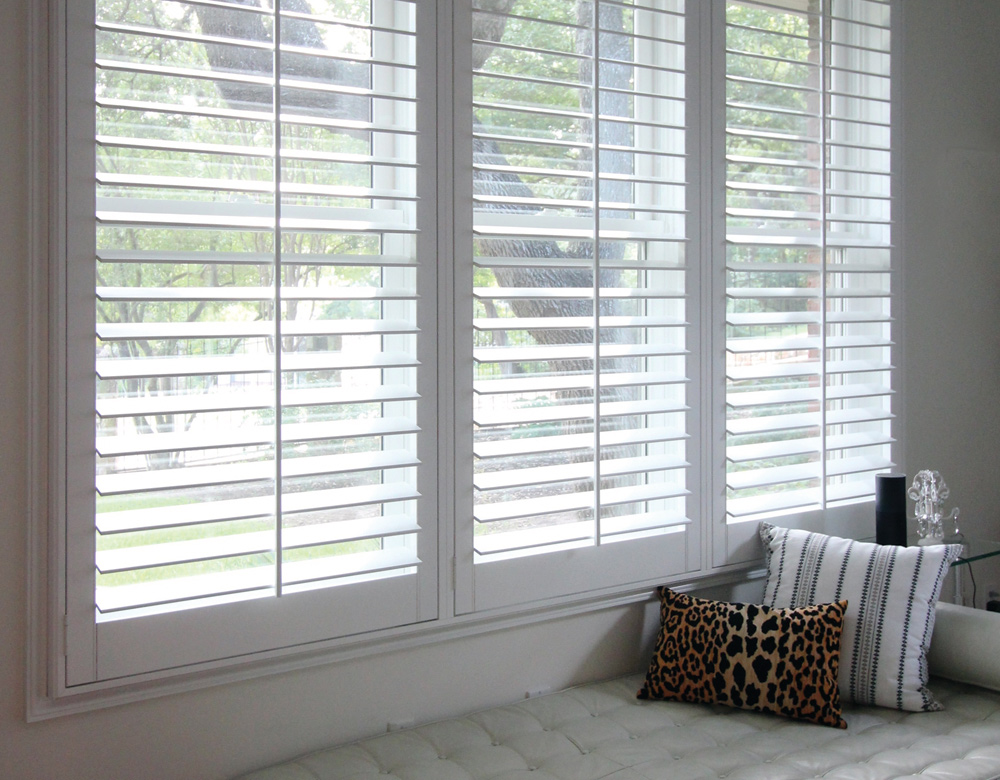 Roller shades are tailor-made to conceal your largest windows. Not only do they exude a unique charm by staying intimately close to your window frame and adding a clean look to your space.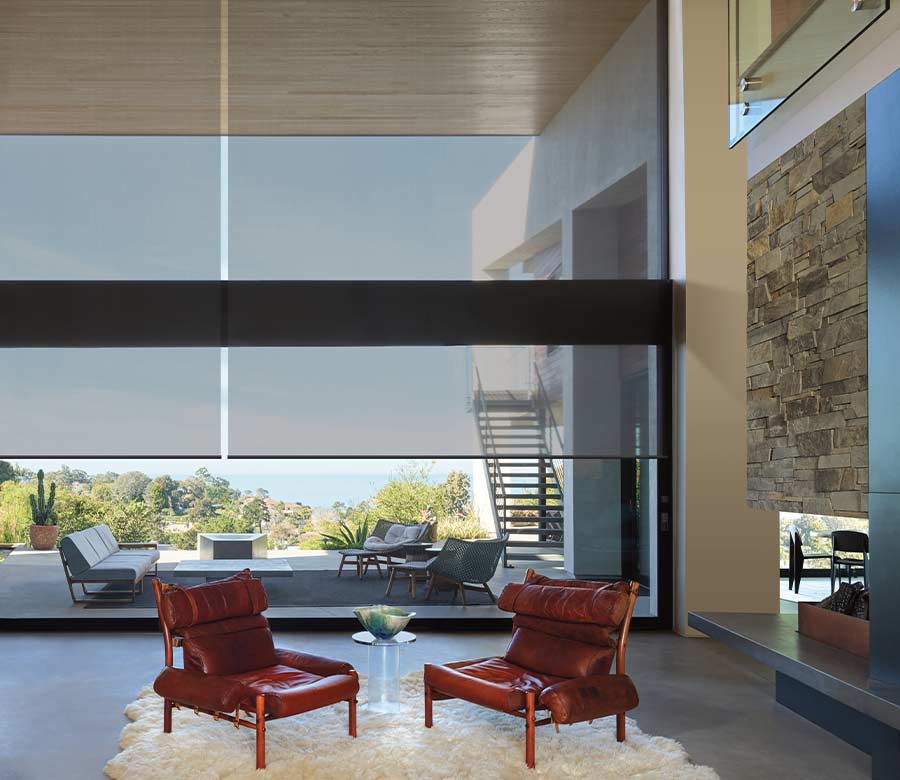 When contemplating shielding your expansive windows from the elements, Solar Shades are a home run! They mitigate excessive light and glare while simultaneously protecting your interior from harmful UV rays. Interested in the result? Solar shades create an indoor haven that marries comfort and serenity in one place. Furthermore, these shades offer a range of enhancements, including smart features and dual shades.
For horizontal windows, the dimensions can extend up to an impressive 16 feet in width and 12 feet in height.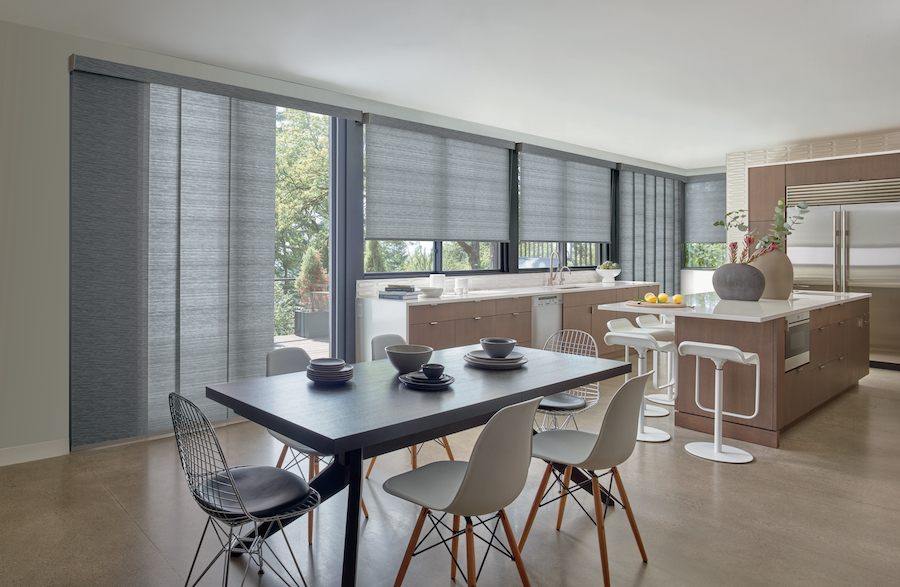 If you're interested in exploring vertical solutions, the Skyline Gliding Window Panels are the way to go. They provide comprehensive coverage for both doors and windows. Many homeowners select a fabric between these panels and roller shades. Thus, creating a cohesive look in your home.
Vertical shades can cover windows and doors, up to 32 feet wide, 14 feet tall.
Want Inspiration for Your Large Window Covering Ideas?
Our team of designers at Austin Window Fashions can help you with your large window covering ideas. Let us help you create an extraordinary atmosphere in your home that makes it easy to come home and hard to leave. Schedule a FREE consultation today, and together, we'll transform your vision into a splendid reality.