American Made Plantation Shutters
Factory Direct Shutters, Custom Built Right Here in Texas.
---
Our factory direct wood shutters are 100% made in America from genuine American timber. The wood is responsibly forested and manufactured following environmentally sustainable methods. They are the cutting edge in design, constructed with the ideal blend of computer controlled precision and traditional joinery. These interior window shutters offer the ultimate in beauty, reliability and privacy. And, our American made plantation shutters are warrantied for your life in your Austin, TX home.
Glass Doors
Style + function for any type of door
Custom interior shutters for french doors, and other glass doors, add style, natural light, privacy and functional operation. French doors can also be found in the interior of your home, leading to an office or master bath. And, they need quality solutions, like any doors. The slender window joinery on glass doors maximizes light into the room and minimizes the visual impact. Interior shutters are a great option for sliding glass doors and patio doors. They'll improve the look, atmosphere and convenience of your home's entryways.
Energy Efficient
Block the light & heat entering your home
Custom shutters block out the sunlight and heat when louvers are closed, similar to the way sunshades work in your car. Interior window shutters offer ultraviolet protection, reflecting back the sun's strong rays instead of absorbing them into the home.

 They provide a thermal barrier that helps keep your home consistently comfortable year-round. Without the right window coverings, you are at risk of 40% energy loss at the window. When the weather is pleasant, you can open the windows and adjust the tilt of the louvers to control the flow of natural air through the home.
Large Windows
Up to 50″ wide without sacrificing integrity
These Custom Shutters come from the only manufacturer with the state-of-the-art machinery and material quality to make panels for custom shutters up to 50" wide. Competitors can only make their single panels 36" wide. Experience the beauty of window coverings that actually fit your windows without having to sacrifice structural integrity or style.
Specialty Shapes
Custom built shapes from the start
Your arched window shutters are made to be shaped right from the start. This means they include all of the structural integrity and design elements that exist in our typically shaped wood shutters. The corners on both our square and arched window shutters are constructed with mortise and tenon joinery for superior strength. All louvers are fully functional – even fractional louvers at the very top of the panel. In addition, all louvers pivot on our exclusive milled monolithic louver tenons rather than the drilled holes and plastic pins used by competing products.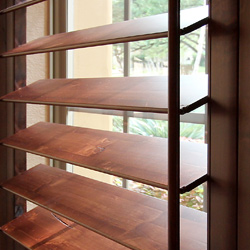 Louver Sizes
3 Sizes Available
Louver size can have an impact on the look and feel of your space. Four different shutter louver sizes are available for our custom plantation shutters. We will help you find the option that works best with the size of your windows and the style of your decor. We offer 3 ¼", 4 ¼", and 5 ¼" louvers.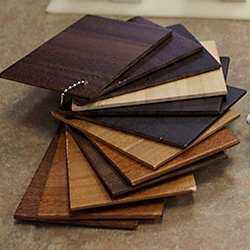 Finish Options
Paint & Stain Options
We have shutter finish options to create a custom look in your home. Paint finishes come in a wide variety of standard colors. Or, we can custom color match the paint to anything you like. Our locally made hardwood shutters also come with a stain grade option, which allows the beauty of real wood to shine. Choose from a broad selection of popular stain color choices. Customize staining to your wood flooring, cabinets or furniture.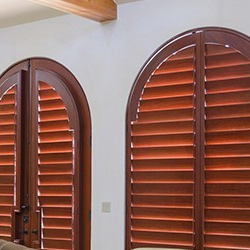 Frame Styles & Tilt Rods
Built to Fit Your Windows
Custom hardwood shutters are wonderfully versatile and can be built in the size and shape of almost any window. We specialize in real wood shutters for arched windows. Arched window shutters are the best way to fully cover your specialty shaped windows. When choosing tilt rods, we can help you find the look that matches your style.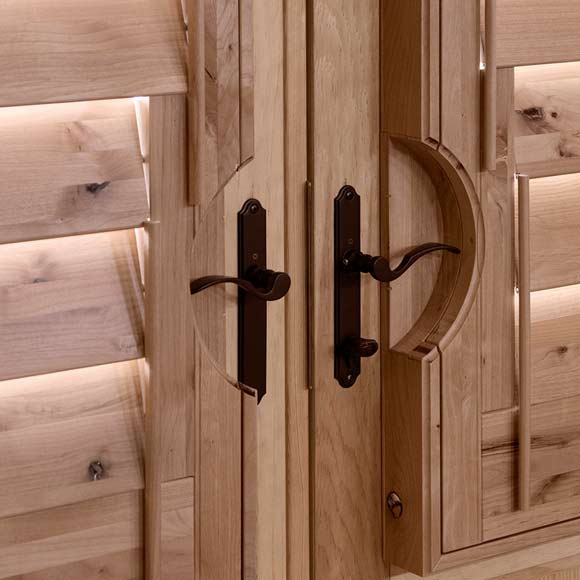 Door Handle Cut Outs
Ideal for Handle Function
French doors & entry doors have something in common: They look amazing with interior shutters! They also have another commonality: They have a handle that HAS to work properly. Your window coverings should not impair the usage of your doors. Whether your doors have knobs or levers, the function is preserved with custom door handle cut-outs. Shutters offer incredible design, heightened further with the architectural details of door handle shapes.