Today's Bathroom Features
November 16, 2021 | skyline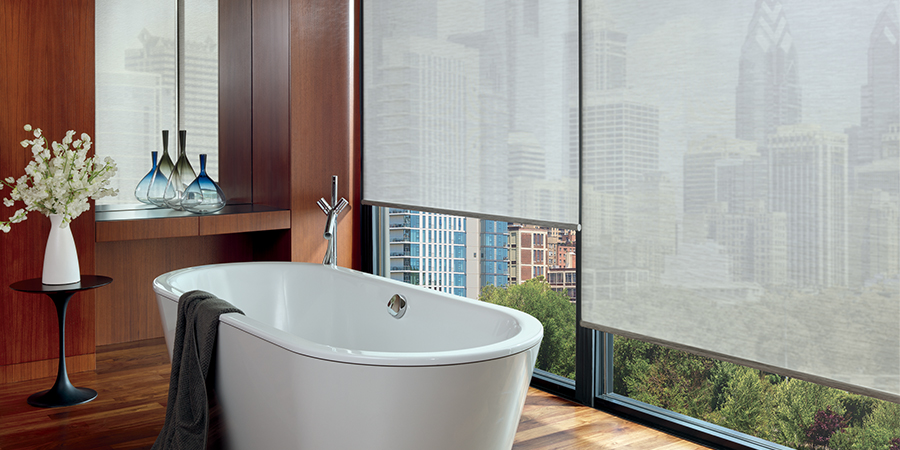 Beginning a bathroom remodel is a HUGE undertaking. Bathroom features have come a long way over the years, and there are many things to consider today with such a huge project. Of course privacy is of the utmost importance, but there are also concerns unique to bathrooms such as light exposure and humidity. Before you design the perfect bathroom retreat, it's best to consult a professional and learn ways to optimize your choices for comfort and function. 
A Perfect Pairing
Certain things just go together like wine + cheese or peanut butter + jelly. In the bathroom design world, it's privacy + light. A complete bathroom remodel should include certain characteristics such as natural lighting and a feeling of security. With the proper choice in window coverings, these bathroom features can easily be part of your newly designed space.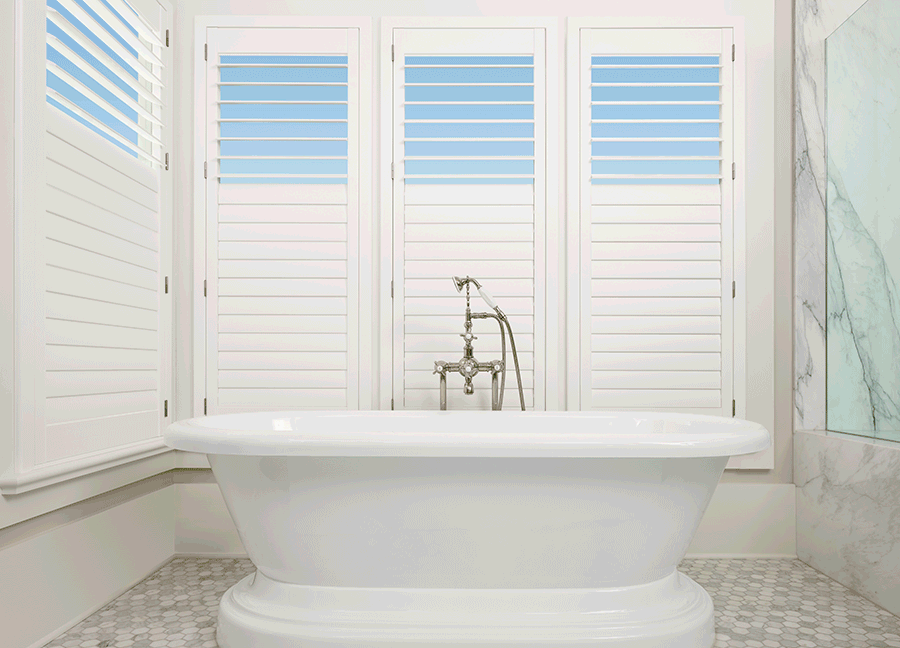 And just because it's private, doesn't mean it needs to feel closed up. With the classic style of plantation shutters, your bathroom can have the best of both worlds. Look how the split tilt feature allows natural light to fill the bathroom, while the bottom is closed off for privacy. The ease of transition is life-changing. Other options with the same benefits, and similar function, include our top down bottom up offerings–view them here.
Got Directions?
Do your bathroom windows face East or West? It's an important topic to consider when embarking on a remodel and choosing bathroom features. The direction a window faces can have a positive impact on how the room functions, but also a negative one. Let us investigate what you're up against and how the direction of your windows may affect your choices. There are many things to consider beyond privacy + light. Let our professionals get you headed in the right direction.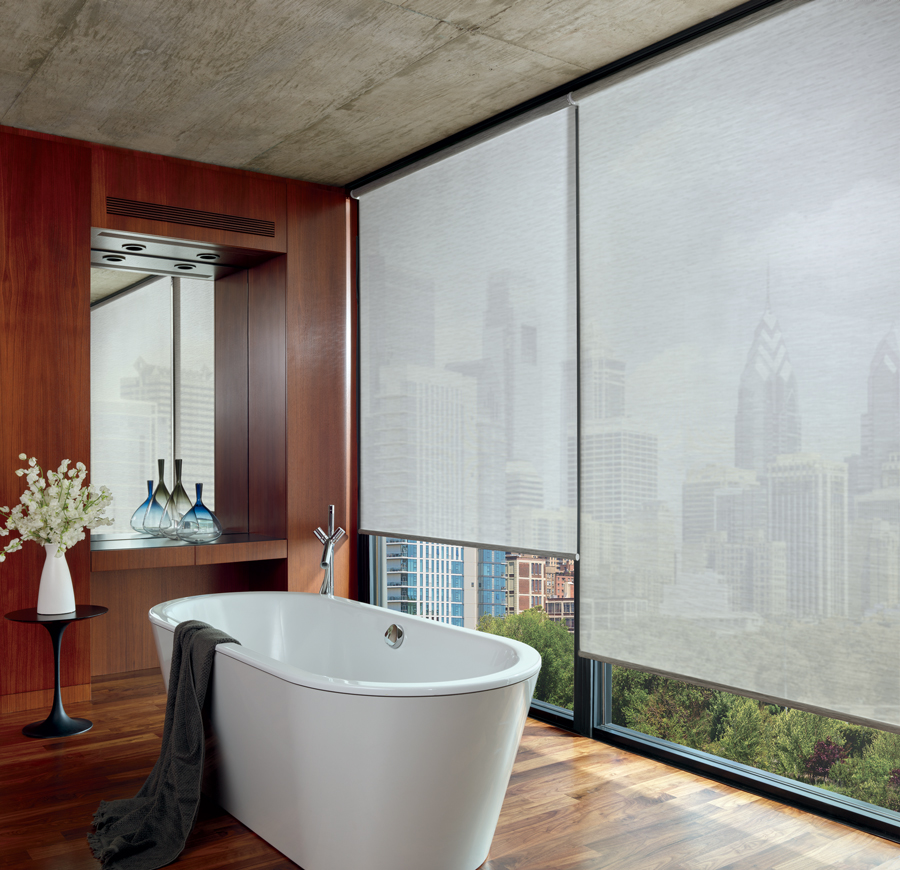 Let's talk hypothetically: Consider taking your bathroom from ordinary to extraordinary–like the one above. You invest in high-end furnishings and the best flooring possible. But, the harsh glare from the sun is causing your custom wood floors and freshly painted walls to fade already. What a nightmare! Be proactive when choosing bathroom features, and add window solutions that protect from UV rays and the glare of intrusive sunshine. Our team understands what obstacles to consider for your Austin area home.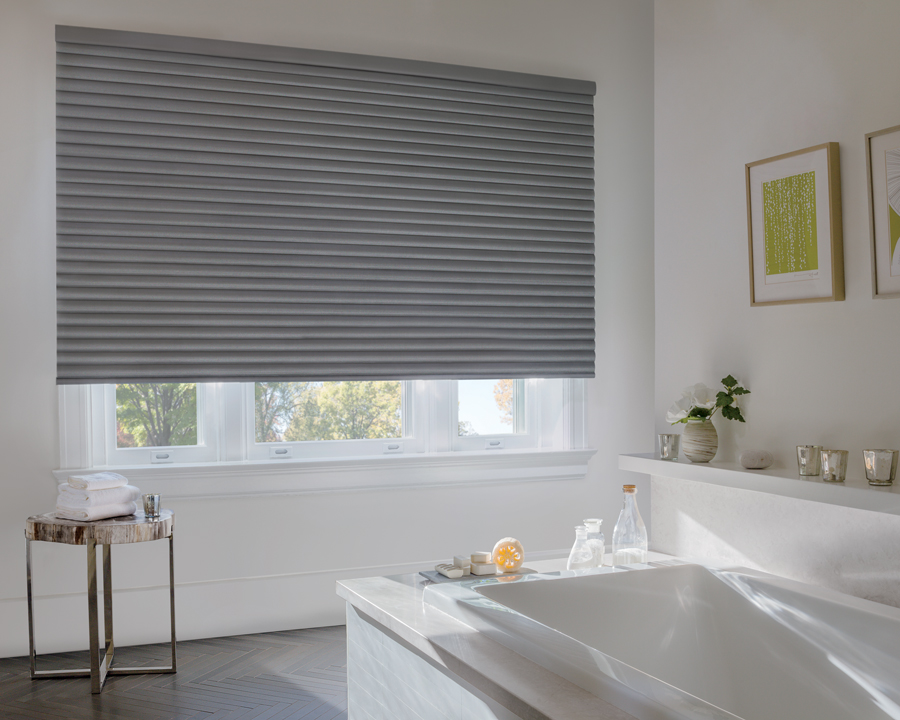 Speaking of Texas, in summer a warmer climate can attract an incredible amount of heat through the windows. By managing the sunshine with shades that include energy efficient properties, your bathroom can remain a comfortable temperature. These beautiful fabric shades are available in a variety of colors and patterns and are just one more option in window solutions that will help you save on energy bills! The list of must-have bathroom features keeps growing…
A
Million Dollar View
Appreciating the outdoors is a huge reason we love the Austin area! The beauty surrounds us everywhere we turn–and in every direction. Wouldn't it be a shame to cover up those floor to ceiling windows and your million dollar view?! You don't have to. When large windows are in your bathroom though, privacy is a must. We have solutions available that allow you to enjoy your view and achieve the privacy you need, in an instant, without compromising the design of your home. Take a look…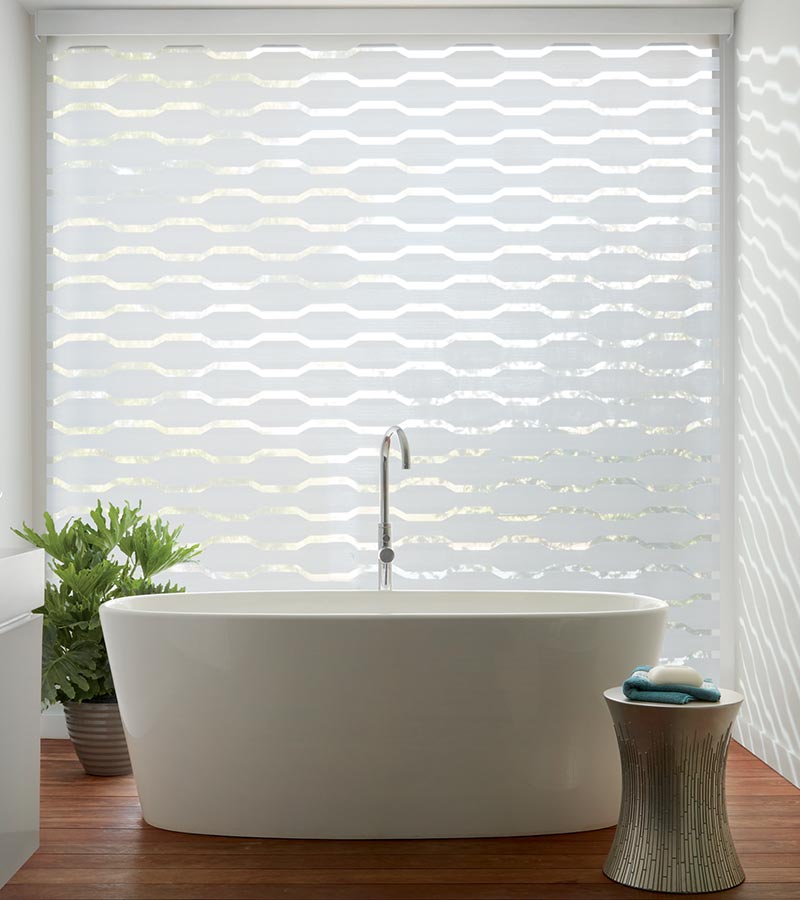 With designer banded shades you can create your own an amazing feature wall. You may even forget what's on the other side! An accent wall worthy of an art gallery will give your bath a custom look while providing the light control and security you need in this very private space. Add smart shades and control the atmosphere with the sound of your voice or a predetermined schedule. The options are endless.
Small Places
Every home is unique and clients need solutions for small spaces too. For a guest bath or children's bath, we recommend window coverings that don't overpower the room. Keep shades neutral and orderly to give an open feel to the space. Helpful bathroom features are important in these intimate spaces as well.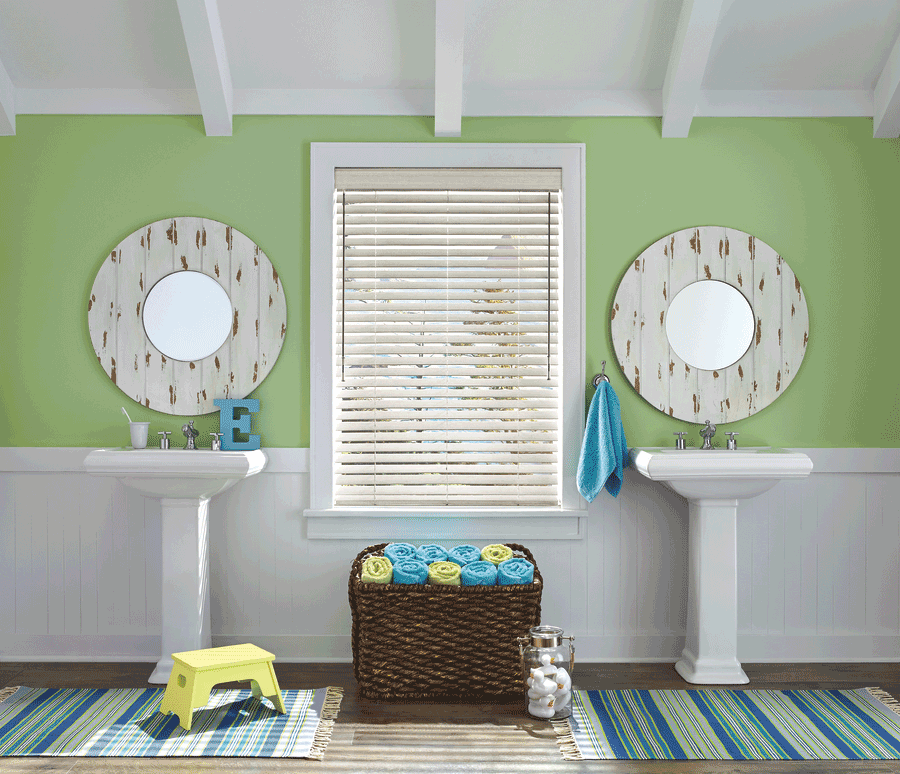 Keep it simple in small spaces. Make opening and closing shades easy by adding features that manage shades with a simple touch of the hand or tug on a wand. 
Discovering Bathroom Features
Are you ready to complete your bathroom redesign? The options are limitless with bathroom features, and we can help you prioritize what your family needs. With window solutions, you not only update your space but add function and longevity to your new bathroom. Allow our team at Austin Window Fashions to evaluate your space and suggest which features will benefit your room the most. We love designing bathrooms with purpose, function and style in mind. Get in touch with us today for your FREE consultation! You'll be glad you did.