After spending more time than ever at home this past year, are there certain spaces in your home that you avoid when the sun is really pouring in? This can be a common problem with your rooms with floor to ceiling windows. Along with bright sunlight comes blinding glare, damaging UV rays, and high interior temps. In order to stay comfortable in every room, no matter the time of day, it's important to add the perfect window treatments. We have our top solutions for all of your largest windows here.
Embrace the View
No matter what the view is, it's often one of the things that ultimately leads people to loving their home. Whether you can see your little ones playing in the backyard, the gardens, or a dynamic cityscape, the view is important. And, it's one of the reasons many people hesitate to add window coverings. They're afraid of covering up what they enjoy. But, with relentless glare and direct rays, can you really enjoy it anyway?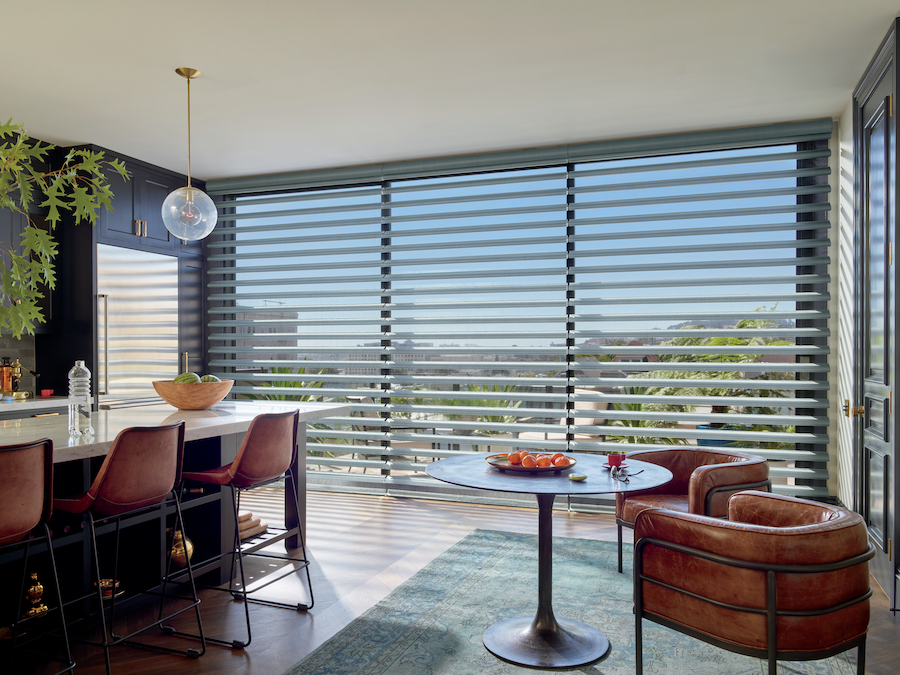 Meet the genius of Pirouette Shades. With sheer view-through, the light is softened and the glare diffused, allowing you a pleasant atmosphere. When you want to block out more light, the solid fabric vanes flatten closed. Want to open the entire view? That's easy as well, with the window shades rolling up and out of the way. 
Style + Function: Wood Shutters
Plantation shutters are simply beautiful. They are the top choice for many homes in the Austin area. The beautiful way they bring character to a home, while also providing light control, energy efficiency and privacy–could there be anything that would keep you from choosing them?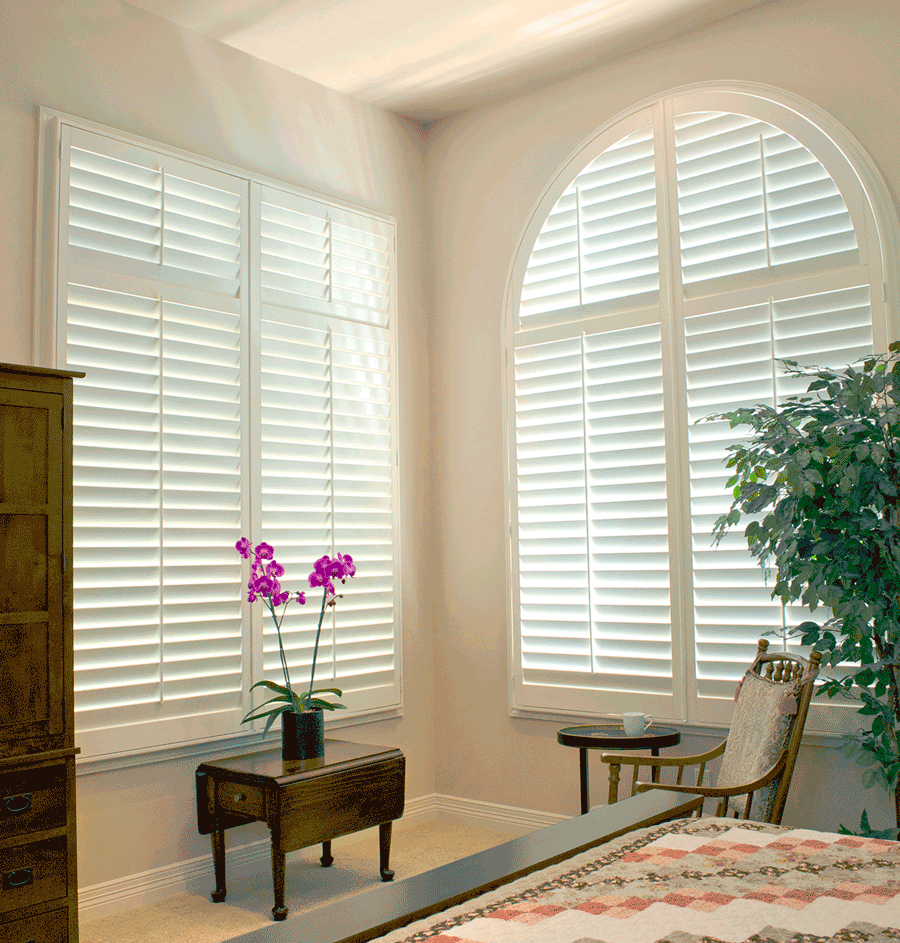 It's the size. When choosing interior shutters, you *may* hear that it's not a good idea to pick shutters. Why? Many window shutters may not be able to handle the dimensions. But, that's one of the reasons our solid wood shutters are different. The craftsmanship of wood shutters allows us to create shutters customized for large windows. The structural integrity of wood shutters won't let you down.
An Artistic Statement
Every home deserves a focal wall. It's really quite a statement. We know your largest windows are a stunning backdrop in your home. But, with the continual glare and soaring temperatures, along with total lack of privacy, bare windows can lose their appeal…quickly.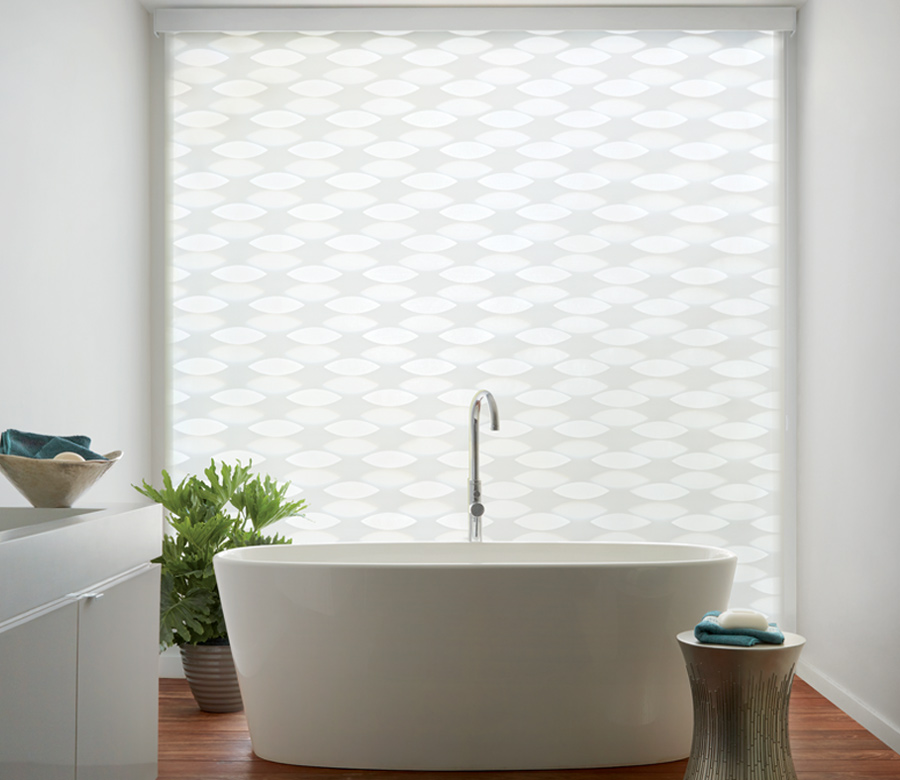 One of our favorite choices for creating a statement of style that can bring light control and privacy is Designer Banded Shades. This layered shade features two fabrics, one with sheer & one with solid, that shift to create a stunning look. In one position, you have view-through with light control. One quick rotation takes you to the next option, where solids line up for more light control and privacy. A third option is to use these shades as roller shades that disappear up and out the way. 
Your Largest Windows: Think Smart
We have a range of window covering products that we offer. But, one of the best ways to handle your largest windows is with automation. We often hear clients asking about adjusting large coverings, wondering how to enjoy floor to ceiling windows, but also get the coverage they need. Adjustments with smart shades add a simplicity to your life that you never knew you needed.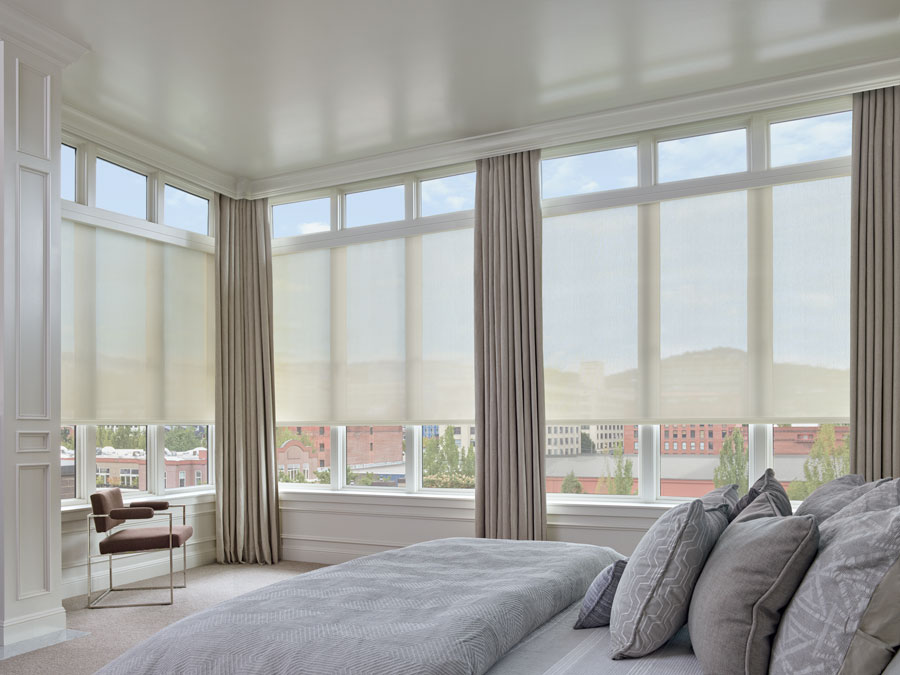 There are three ways of adjusting: remote control, app control and smart home control. With smart home control, you can use your preferred smart home device for voice commands, scheduled adjustments or even triggers–with "if this, then that" lifestyle options. Automated shades provide the ideal atmosphere, no matter what.
Discover Solutions.
Your largest windows present unique challenges, but they offer unique character as well. Let us help you enhance your home so you can enjoy what your windows have to offer while solving the issues that frustrate you. Get in touch with our team at Austin Window Fashions for your FREE consultation.